161
The new audio system of the Paul Brown stadium in Cincinnati is signed by RCF, where the Bengals face their opponents in the NFL championship. With more than 580 large-format speakers among RCF catalog products and custom builds, Paul Brown Stadium recharged as one of the best sounding sports facilities in the US. All delivered on time despite the global pandemic.
The Paul Brown Stadium is a 65.515-seat gridiron arena that has always placed a premium on the strength and quality of its audio systems. Equally known as the site of performances by artists ranging from Kenny Chesney to Guns N' Roses, PBS, as locals call it, subscribe to the notion that sound traveling throughout its concourses and seating areas should live up to concert-level expectations at all levels, whether it be on game day or for special events.
Designed and implemented by Nashville, Tennessee-based Durrell Sports Audio Management, the new system is an amalgam of workhorse legacy components, upgraded audio processing, and custom loudspeakers built in Italy expressly to meet the needs of this unique application by RCF.
Custom technologies for high performance audio
The upgrade project was implemented in three phases, with the first kicking-off in 2018 and bringing, among other things, new delay loudspeakers from RCF to the upper deck and canopy level. Phase two added approximately new RCF loudspeakers to the lower level and to the canopy level in 2019, along with eight dual 21-inch RCF subwoofers on each side of the canopy level. Phase three of the project, in February 2020, saw the arrival of several HVL 15-L1 and HVL 15-P1 speakers, provided by RCF as one-off custom units built to Durrell's specs just for PBS. In between these custom HVL long-throw boxes, standard offerings from the RCF catalog including model P 4228, P 3115T, and P 6215 cabinets were interspersed as downfill.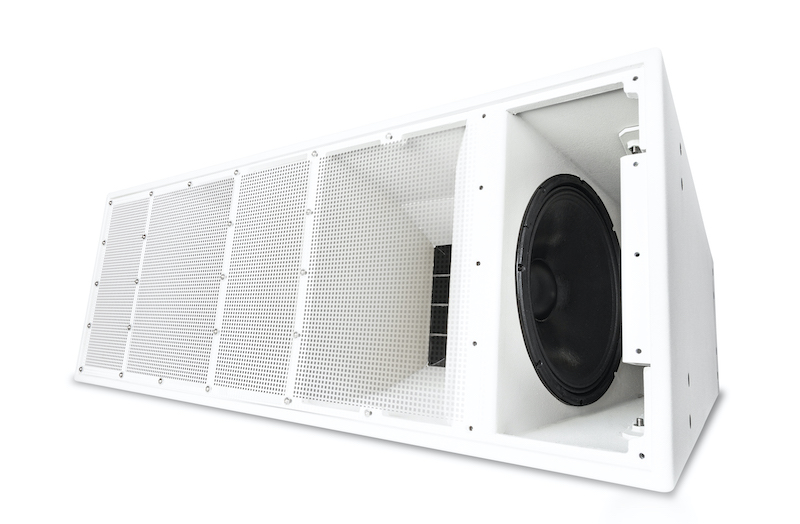 Based around a horn-loaded symmetric design, the custom HVL 15-L1 cabinets from RCF are outfitted with a pair of 15-inch drivers at the low-end, a pair of 10-inch midrange drivers, and two titanium dome compression drivers with four-inch voice coils at the top. All of the transducers feature neodymium magnets. With a frequency response of 43 Hz – 18,000 Hz (-10 dB), these three-way, long-throw boxes are driven in bi-amped mode and are capable of producing a maximum SPL of 133 dB (LF) and 145 dB (MHF). Horizontal coverage is 90°, while vertical coverage spans 30°. The eight HVL 15-P1 loudspeakers built by RCF for the PBS installation share many of the same design characteristics as their 15-L1 brethren, once again operating in the same frequency range and employing a bi-amped, horn-loaded symmetric design, passive filtering between the mid and high-frequency sections, and the same external construction. Equipped with the same latest generation transducers as the 15-L1 across the board, the 15-P1s differ in that they offer 60° x 30° coverage.
"Paul Brown Stadium is unlike any other around the country when it comes to audio – Durrell's John Horrell explains -. Every aspect of its game-day production from simple announcements to music is as live as you can get. That's why when we were chosen to upgrade the audio we felt it was essential to create a system that was capable of true, concert-level high performance". And here the RCF team arrived and, led by Arturo Vicari, designed, built and delivered the speakers within the estimated time frame. "All of us here and in Italy felt this project was vital as a boost to everyone's morale – says RCF USA National Sales Manager Tarik Solangi -. Beyond the virus, our biggest challenge was fitting our products into the exacting requirements dictated by the stadium".
Out in the bowl and throughout the concourse levels, Scott Simpson, executive producer of JungleVision Productions, relates that the renewed audio system's RCF loudspeakers differ from their predecessors in terms of balance and overall coverage. "The expanded coverage in the facility is outstanding, it's a whole new experience for our fans. Live stadium sound is a unique animal in that hard, reflective surfaces and wide-open spaces abound. The thought that went into this design combined with the presence of the fans in the stands to help absorb unwanted reflections brings the whole system to life".
This post is also available in: Italian