142
The main innovations of the Sony brand presented at ISE 2020 concern the Corporate and Education areas, in particular with TEOS Manage 2.2 and with the line of advanced solutions for the distribution, recording and streaming of presentations and video content
As expected, Sony's ISE 2020 has been full of interesting news, starting with the new 2.2 version of TEOS Manage, the software platform designed to guarantee control of connected AV devices in Corporate and Education environments. The new TEOS 2.2 version offers twenty new functions and features, including customizable Intelligent Automation options, a new Meeting Display interface and intuitive integration with Outlook. All this to improve integration and efficiency in the workplace.
As told Maxime Lemoine, Segment Specialist & Trade Marketing Manager South Europe Sony, "on our stand at ISE 2020 we represented several segments, just like last year. Particular attention to Corporate solutions, with TEOS updates, and to the Education sector. TEOS" – in the words of Maxime Lemoine – "is a single platform that can manage all the video devices in a company and in a building, and which gives also users the possibility to control digital signage, room booking and reception activities."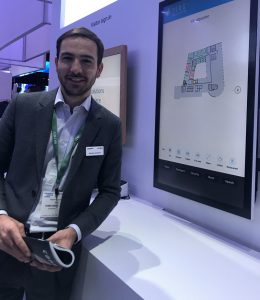 These are the main novelties of TEOS 2.2:
– Intelligent Automation: new types of devices such as lights, curtains, heating systems can be managed via TEOS
– Two new sensors: a desk sensor to measure occupancy status and a meeting room sensor to measure also CO2 level
– New meeting display interface: meeting room displays can be customized with advanced workflows that combine room, meeting and other information. The signage content will automatically update at the beginning and end of the meetings
– Integration with Outlook: employees will be able to use Connect, Book and Reception directly from Outlook, improving efficiency thanks to enabling one-click mirroring
– Room status: it will also be possible to show the status and information relating to the rooms or desks (capacity, availability, location) in public areas, allowing employees to easily find a free space
– Tenant management: organizations that rent spaces will be able to measure and manage activities and quotas.
With twelve languages available, a developed Analytics section and a more intuitive overview of the occupation and use of spaces, TEOS 2.2 (available from April 2020) promises to be a key tool in the Corporate field. "Among the new features of TEOS 2.2" – adds Maxime Lemoine – "there is also the videowall configuration. Just set the screen and bezel, and TEOS platform will appropriately handle the content."
In the Educational field, however, Sony presented a live demo at ISE 2020 with all its combined solutions, starting from what is perhaps the greatest novelty, MAS-A100: new IP-based beamforming ceiling microphone for flexible lessons and "hands free" presentations.

"This type of microphone" – confirms Maxime Lemoine – "is able to capture all voices while eliminating background noise without engaging the hands of the speaker and without having to place anything on the jacket or on the table. In short, it allows the speaker to freely move in the room, and it's a perfect solution for teachers."
Thanks to the combination of beamforming technology with the Intelligent Feedback Reducer function, MAS-A100 offers sound clarity easy integration into existing AV setups via Dante protocol. The Education section was then completed by solutions already known as the REA-C1000 Edge Analytics Appliance, which allows you to create impactful video content with minimal resources and automatically extract handwriting from the whiteboards, and UbiCast, an automatic solution to create and share dynamic video content.
The rich Sony stand was then completed by the new 4K x 2K crystal LED display system and the latest generation of laser projectors, with particular attention to the bright VPL-FHZ131L model, 13.000 lumen WUXGA projector. In the spring of this year, however, launches of other laser projector models that were not present at ISE, and which we will not fail to update you, are expected.
This post is also available in: Italian