108
In the "Sala del Cenacolo" of the National Museum of Science and Technology "Leonardo da Vinci", in Milan, Sony has organized an event dedicated to launching the company's new solutions for the workplace… and more!
The starting point is an undoubtedly acceptable statement: the workspace is in continuous and constant transformation. There is no doubt that, in the not too distant future, the office will no longer be a mere routine workplace, but will become a space more devoted to facilitating collaboration, to unleash creativity and to increase the productivity of the groups of work. The Sony's corporate solutions have the ambition to cover every aspect of workspace management, from room booking to the analysis of the usage data of the environments, from the virtual reception to digital signage, with the aid of Sony 4K displays Bravia B2B.
The "Sony Workspace Experience" unfolded on May 15 in the fascinating "Sala del Cenacolo" of the Science and Technology Museum "Leonardo da Vinci", through a series of interventions replicated during the day, curated by Fabio Mazzurana, Channel Account manager of Sony Professional.


The presentations were followed by hands-on sessions, through which visitors were able to fully discover the Sony innovations, from the new Bravia displays to the recently introduced VPL-FHZ75 (6500 lumens) and VPL-FHZ70 (5500 lumens) WUXGA laser projectors, one of which – the FHZ75 model – was also used to project illustrative materials during the presentation sessions. Seeing products at work is the best way to get in touch with them and get to know them.
Also present were the new PTZ ceiling and table cameras, and TEOS Manage system in all its various forms, a true must of the Sony line for work environments and content sharing.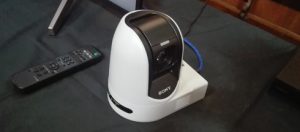 The message conveyed by this day is clear: Sony is not just hardware, but also software. In a world increasingly based on real time wirelessly interconnection and sharing, products must quickly update, solutions must anticipate users' needs and help shape the workplace of the future, do not wait for the future becomes apparent, with its irrevocable needs.
The TEOS implementations (30 new updates, including TEOS Player, compatibility with many additional brands, the "Email to Signage" feature and the ability to access TEOS Manage via Cloud) are a path traced towards a future ever closer, in order to be ready for the new market and technology challenges. Also noteworthy are the features of Edge Analytics Appliance, for medium and large conference rooms or auditoriums: recognition and extraction of writing, self-tracking of the lecturer with PTZ cameras that follow it automatically in its movements, and frame – if necessary – any interventions from part of the audience, giving full video coverage of the event or conference.
And then, the word on which this meeting could not be completed is flexibility: the TEOS line-up, which already includes TEOS Connect for the transmission of wireless content, TEOS Book Remote for controlling meeting rooms, Tablet TEOS and TEOS Manage, the complete solution for managing the work environment, with further implementations it aims to offer greater and easier control by device users and spaces for meetings and team work.
https://pro.sony/it
This post is also available in: Italian