120
Extensive upgrade of the integrated workspace management solution: TEOS Manage 2.0 aims to improve productivity, collaboration and energy efficiency.
Sony Professional Solutions Europe launches TEOS Manage 2.0, an important update to the well-known end-to-end solution for managing the work environment. From meeting rooms to reception areas, this solution offers simple and scalable management for corporate and education facilities, allowing companies to rationalize their work environment by optimizing device management and space utilization, with reducing energy costs and increasing employee productivity.
There are more than 65 new features offered by TEOS Manage 2.0, including the new mobile app for booking rooms for employees, advanced statistics, remote firmware updates, a new universal remote control and a more secure visitor access process. The streamlining of the process of booking meeting rooms allows employees to save time, and not a little, given that according to a study there are 15,5 working days lost each year to organize meetings. The TEOS family of solutions – which includes the new TEOS Mobile app for employee room bookings – is a direct response to this and other current organizational challenges.
Let's take a brief look at the main features of the new features of TEOS Manage.
TEOS Mobile is a new intuitive app that allows you to entrust the management of meeting rooms entirely to your employees, at any time, without having to be connected to the corporate network. It includes the processes of booking rooms, checking and mirroring the devices and a request for assistance in case of need.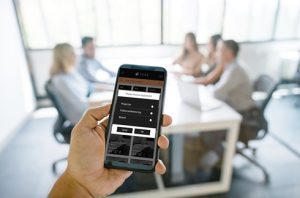 TEOS Survey on the other hand is a new solution for tablet surveys that allows users to connect and receive feedback from staff and visitors.
Then there is TEOS Room Control, a new solution on tablet for controlling devices in meeting rooms by employees, and universal Remote control 2.0, universal digital mobile device control that shows the status of devices and updates in real time for ensure greater compatibility with third-party AV equipment.
Added to this are completely new design and interface, with a search bar and subsections that simplify navigation, new digital signage options to create personalized content, virtual reception and access to rooms, a function that provides for the automatic distribution of security codes, to avoid sharing personal details while visitor badges, easily customizable, simplify work in crowded reception areas.
Finally, the function of simplified access to the rooms via the tablet allows conference participants to easily measure the frequency, while a new, advanced dashboard for statistics includes data relating to a series of filterable solutions based on period, room and head office, to optimize the use of space, signage contents and reception activities.
The solution is obviously compatible with many others, such as Vision Exchange, as well as with third-party devices, including Barco Clickshare, NEC and C-Touch displays, Windows computers and so on.
pro.sony/it
This post is also available in: Italian
You might also like
---