255
Image acquisition, visualization and documentation: Sony presents the latest 4K3D and 4K end-to-end surgical imaging solutions and technologies at MEDICA 2019.
On the occasion of MEDICA 2019 (November 18-21, in Düsseldorf), Sony presents the latest line-up of IP technologies that support 4K and 4K3D systems, improving the hospital imaging workflow. For the first time in Europe, visitors will be able to experience the new, more flexible and powerful NUCLeUS smart IP imaging platform, as well as the first 4K HDR surgical monitor and Sony's HDR medical camera.
NUCLeUS is an open, vendor-neutral and future-proof IP imaging platform, whose new version offers 4K support, compatibility with copper or fiber infrastructure and the ability to manage and support the quality of the compressed and uncompressed image. Several hospitals in Europe have already invested in NUCLeUS, such as the Franciscus Gasthuis & Vlietland hospital in the Netherlands, the main Swedish university hospital, Karolinska University Hospital and the main university hospital in Belgium, University Hospital Leuven.

Among the other innovations by Sony at MEDICA 2019 we have the 4K advanced display line-up for surgical imaging in the operating room. This includes the recent 4K monitors, such as LMD-X2700MD and LMD-X2705MD, which allow upscaling from HD to 4K.
Sony also presents 4K3D surgical imaging, offering improved spatial visualization for endoscopic, robotic and microscopic interventions. With the upscaling of the 4K3D display from HD3D to 4K3D, surgeons will have a very detailed image available thanks to products including the LMD-X550MT, LMD-X310MT surgical monitors and the HVO-3300MT 3D surgical recorder.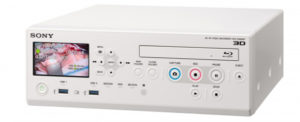 Finally, a very interesting novelty is represented by the integration of HDR technology in medical devices, with the LMD-2705MD and LMD-2700MD surgical monitors, and especially in the Full HD/HDR MCC-1000MD video camera, suitable for microscopes and surgical applications and particularly intuitive and flexible in terms of integration in clinical environments.

Sony will be at MEDICA 2019 at stand H57, Hall 10, from 18 to 21 November.
This post is also available in: Italian