164
It's called Cricket PE30 and is the result of the collaboration between Simai, a Toyota group company, the Florentine K-array and Exhibo: it is a 100% electric vehicle for music in the city, developed during the covid-19 emergency
The Florence-based company K-array together with the Milan-based company Simai have developed – with the support and collaboration of Exhibo – Cricket PE30, a fully electric vehicle with professional equipment for audio diffusion on the occasion of events of all kinds. The official launch of the vehicle is scheduled for the month of July.
Cricket PE30 is an innovative solution that can offer an effective means for many companies operating in the world of musical events, especially in this difficult moment where it is necessary to reinvent services and products.
K-array and Simai are two excellences of Made in Italy: the Florentine company is responsible for designing, building and marketing professional audio systems for all types of environments and applications, while Simai, belonging to the Toyota group, is specialized in manufacturing and sales of electric tractors and flatbed conveyors for horizontal handling.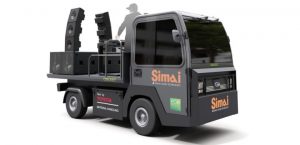 Cricket PE30 is the first result of this new collaboration. In addition to the K-array set-up, Exhibo contributes to the supply with QSC TouchMix 8, eight-channel audio mixer, and with a Sennheiser EW500 G4 wireless microphone with Neumann KK205 capsule. Cricket PE30 is offered in three preconfigured K-array|Unique Audio Solutions brands, each for a well-defined application: Classical Music, Pop/Rock Music and Clubbing Music.
Cricket PE30 is a 100% electric vehicle, with latest generation technology, which solves the problem of circulation in historic centers or ZTL. The small size (1.560mm width, 3.825mm length, 1.900mm height) allows it to enter even narrow alleys, as often happens in the historic centers of ancient Italian and European cities. The vehicle is driven with a B license, despite having a P.T.T. of 55 quintals. The payload is 3.000 kg, while the towing capacity is 8.000 kg. In short, as they say in these cases: "Musica, Maestro!"
www.k-array.com
www.simai.it
www.exhibo.it
This post is also available in: Italian