184
P9RA+ and P10R+ are the new bodypack receivers recently introduced by Shure, a brand distributed in Italy by Prase Media Engineering.
P9RA+ and P10R+ operate respectively with the personal monitoring systems PSM 900 and PSM 1000. Both guarantee an enhanced RF performance, while maintaining audio quality and transparency. Designed for use in live performances and for the management of broadcast productions, these receivers, in the new updated version, are characterized by an analogue/digital hybrid system that enhances headroom, stereo separation and audio fidelity.

More in detail, P9RA+ is a compact stereo bodypack that works with the PSM 900 wireless system and aims to meet the needs of professionals in the sector. The P9RA+ receivers are compatible with the P9T and P10T transmitters, as well as with all the headphones of the SE Sound Isolating series. Likewise, P10R+ is a low profile bodypack receiver, with dual diversity antenna that works with the PSM 1000 wireless system. The main features of the P10R+ model, such as wide-range RF scanning, precision RF filtering and automatic gain control, make it suitable for applications of all sizes. The receivers are built with an integrated FPGA circuit, the PSM receivers are equipped with DSP (advanced digital signal processing) technology on analog RF transmission. Offering a higher sensitivity, the new P9RA+ and P10R+ provide a more linear RF signal and better end-of-range performance.
For professionals who want to keep the identical sound footprint of the original PSM 900 and PSM 1000 receivers, the new versions feature an Input EQ Preset called Match, which responds precisely to this request. Furthermore, the PSM 900 and PSM 1000 transmitters and the in-ear monitors will remain unchanged.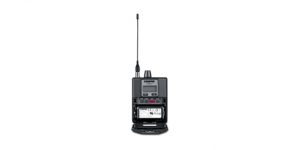 A comment by Michael Johns, Senior Product Manager of Shure, is overwhelming: "With the new P9RA+ and P10R+ bodypacks" – he said – "we have made many improvements to respond to the many requests and feedback we have gathered from sound professionals. By designing a hybrid system that uses both analog and digital technology, we are able to improve the effectiveness of the listening experience while maintaining accuracy and transparency. We have developed a product with the quality standards of a recording studio for live applications."
The P9RA+ and P10R+ bodypack receivers will be available from the end of 2018.
This post is also available in: Italian