163
Now that the world of sport should return to normal live events, there is a need to offer spectators a 360° show, which includes an interesting and professional audio aspect
Capturing the expressions and words of players and coaches, the sounds of the pitch, the sounds of the game: this is the mission of the new Axient Digital-Enabled wireless transmitters developed by Shure and Q5X, a brand specializing in audio in the sport field. These are discrete microphones, which must be able to capture the audio of the sporting event without interfering with the game actions. The wireless transmitter, therefore, must be small, safe and flexible, capable of operating up to a maximum of three continuous hours of play, with transmission protected by encryption so that no one else can access the audio feed of coaches, players and officials sports. In addition, fundamental aspects are also the quality of the sound and the efficiency of the coverage spectrum.
Q5X and Shure have therefore announced a collaboration that led to the launch, scheduled for this summer 2020, of the new Q5X Axient Digital-Enabled wireless transmitters, which offer the latest digital wireless technology with RF stability and encryption.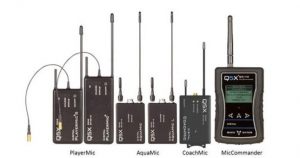 Developed to directly address ongoing technical challenges plaguing major sports organizations, the Axient Digital-Enabled Q5X Wireless Transmitters incorporate an innovative wireless technology. With outstanding signal quality in even the most complex venues and congested RF environments, Axient Digital provides maximum stability, range, and clarity for professional productions that demand flawless execution. Q5X has established well-proven form factors ideal for players, coaches, and officials at all sporting levels in different sports. And now, three form factor models feature the latest Axient Digital technology, including the CoachMic, PlayerMic, and AquaMic, which is designed for wet environments such as outdoor functions or water sports.
The new CoachMic combines the functionality of a large, easy-to-use rocker-style mute switch with the security of digital encryption. This new form factor securely and unobtrusively captures the coach's audio for post-production, while giving the coach the opportunity to confidently mute the mic for game strategy or other sensitive discussions.
Originally developed for the NBA, the PlayerMic is an efficient flexible belt transmitter for players. The slim, collapsible rubber design protects players from injury in the event of a fall. The new version of the Q5X PlayerMic bodypack transmitter has been co-developed with Shure to be compatible with Axient Digital wireless receivers for best-in-class digital wireless transmission.

When a waterproof solution is required, the AquaMic is designed to capture audio in demanding environments such as water sports or buried in the outdoor playing field when players can't wear them. The AquaMic is fully submersible, so it is ideal for challenging environmental situations like those in reality television, film, and sports broadcasting. Rechargeable batteries provide 4-16 hours of life.
The MicCommander enables users to control all aspects of the bodypack transmitters remotely, including set up and monitoring: on/off, frequency, mic offset, RF power, groups, and battery level.
This post is also available in: Italian