131
At ISE 2020, Screenline launches several novelties, starting with LIVING, a new range of frame screens for the residential market, ending with the conical version of ARENA
The big news of Screenline for ISE 2020 (booth 1-H120) is the LIVING series, new framed screens for home cinema that combine high quality of the professional product and design. The line consists of eight new screens, including the interesting LIVING THIN and LIVING THIN CURVED, models with a 5 mm black frame. LIVING FULL VISION and LIVING FULL VISION CURVO are already known to interior designers, blending easily into any environment.
But the news does not stop there: here are also the two new RADIANCE models, specific for environments illuminated by natural light, both in the domestic and corporate environments. These are pvc canvases enriched with highly reflective mineral microparticles, which guarantee great brightness and high contrast.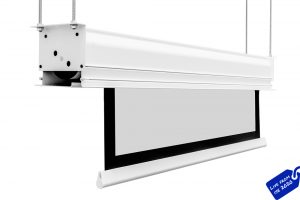 And so we come to MAXIMILIAN 2.0: two new versions (PRO and STANDARD) of motorized screens for cinemas and theaters. For both models, the new features are represented by a higher unwinding speed (0,50 m/s), even doubled compared to the previous model, with reduced weight, increased silence (new motor with 230V inverter) and a greater control of the parameters: speed, acceleration, end points and intermediate point. Finally, the installation has also been simplified, with a large variety of brackets for mounting and the availability of manual winches. In the PRO version there is also a double safety tape.
The catalog of Transparent Led displays is also enlarged with the entry of the NJ and NRV models. NJ offers a minimal style frame for maximum resolution and transparency. NRV is instead the solution designed for the Rental world. Transparent Led displays are increasingly in demand also in the world of live and professional rental. Screenline also offers the Waterproof version with a dedicated 3.3 Hi end line.

We close this roundup of news with the new conical ARENA, another flagship of Screenline production. It's an immersive screen that can be viewed in action at the Screenline booth at ISE 2020, thanks to a collaboration with Zebra who took care of the software and video part. ARENA is a super-equipped and versatile product, which can be designed according to specific customer requests.
This post is also available in: Italian