141
Meyer Sound Constellation optimizes the acoustic system of one of the architectural jewels of San Diego, California: the new Rady Shell at Jacobs Park, which hosts the San Diego Symphony outdoor concerts.
The new Rady Shell of San Diego, thanks to the particular "shell" that encloses the stage, is suitable for hosting large productions, allowing the musicians of the orchestra to play outdoors listening and responding as they would in a high-level concert hall. To create an optimal acoustic listening environment that can be fine-tuned for various performances, a Meyer Sound Constellation acoustic system was installed inside the shell for the first time in an outdoor location.

Equipping the shell structure with an active acoustic system for monitoring was strongly recommended by Shawn Murphy, an Oscar-winning film score mixer who served as special consultant to the symphony. Meyer Sound's Constellation team designed the acoustic system, with complementary physical acoustics entrusted to Salter, the project's acoustical and AV consultant. Because many performances at the venue — most notably amplified pop or rock — would not use the Constellation system, the Salter team was given a two-fold brief: design a baseline acoustic that would support Constellation but would also provide a good environment when Constellation was off. As installed, the Constellation system comprises 25 UPM-1XP and 22 UPJunior‑XP remotely self-powered loudspeakers, with 12 UMS-1XP remotely self-powered subwoofers to extend the reverberation envelope to the lowest registers. DSP for driving the system is supplied by an eight-module D‑Mitri digital audio platform, with two modules dedicated to hosting the patented VRAS variable room acoustic algorithm. Ambient sensing for the regenerative reverberation is provided by 20 Schoeps MK41 microphones with CMC6 preamps.
"The sound onstage is unbelievable," San Diego Symphony Music Director Rafael Payare told. "We can hear each other wonderfully and you feel like you are in one of the top-notch concert halls of the world."
The Rady Shell at Jacobs Park was a vast undertaking, with a number of other key players involved, directly or indirectly, with audio and acoustics. Thanks to San Diego's mild weather, the new venue anticipates year-round operation. It will host more than 100 concerts and events a year, either by the symphony or other organizations, promoters or convention groups. Although Constellation was installed principally for the San Diego Symphony, it will be available with the symphony's approval for use by other classical or acoustical music ensembles performing at The Shell.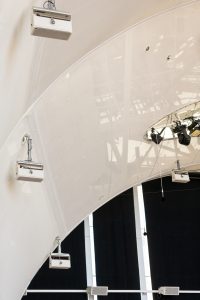 Jason Duty, vice president of Salter, the company that dealt with the design of the "shell" acoustics, thus motivated the choice of Meyer Sound: "Constellation is incredibly helpful in situations like this. The venue is right on the harbor, and having the control to let musicians clearly hear players on the other side of the stage is beneficial. In addition, there is the flexibility to adjust the acoustics to what you are hearing in the moment."
This post is also available in: Italian