121
TvOne launched in occasion of ISE 2019 a new, enhanced CORIOmaster video wall processor, with other interesting products such as CORIOview, new matrix series MX-65xx and 1T-SX-654 HDMI switcher.
TvOne is a company that may be inconspicuous in terms of "media", but very important for system design! In fact, its products, from matrices to signal distributors to converters and processors, are among the most used by system integrators.
The ISE 2019 of this British brand took place in the sign of CORIOmaster, of which an improved version was presented. The main novelty is a communication secure suite with full REST API and the possibility of multi-user control, but there are several other improvements including a four-port HDMI output module, audio support for both CORIOmaster and CORIOmaster mini and a new dedicated audio module. The four HDMI output is an important upgrade, because it brings the CORIOmaster C3-540 to a maximum of 56 outputs, with the consequent possible extension of the videowall installations and not only, also of the edge blending systems realized with system projections and with LED. The new integrated audio support and audio module also expand the control capabilities of CORIOmaster in AV systems, and IP streaming, in the new version, accepts both the H.264 and H.265 (HEVC) compression formats, for higher quality and larger bandwidth.
But the TvOne booth at ISE 2019 didn't shine just for CORIOmaster. Also present is the well-known CORIOview, 4K multi-window processor that allows you to view all eight inputs in dedicated video windows, with low latency. It's a plug-and-play solution designed for mixed applications with IP, AV, broadcast, legacy inputs and embedded or S/PDIF audio outputs.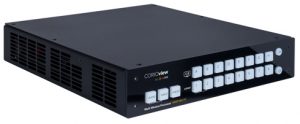 Another product on the stand, which deserves mention, is the 4×1 1T-SX-654 HDMI 2.0 switcher, which offers four HDMI video inputs and one HDMI output. The salient feature of this switcher is the size reduction: with a small box it's possible to support video resolution up to 4Kx2K at 60 Hz 4:4:4 HDR, with a bandwidth of 18 Gbps. Audio functionality includes multi-channel support, de-embedded digital stereo audio to provide an analog output, or an audio return channel (ARC) for transmitting audio back to the HDMI input from the connected display.
And finally, on the stand also the new MX-65xx matrix switcher series, that allows you to send HDMI 2.0 (with HDCP) to multiple devices, both independently and simultaneously. The matrix switcher series complies with HDCP 2.2, and supports 3D, and 4K2K@60 4:4:4 8 bit and 10-bit processing, for superior deep colour rendering.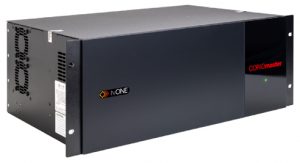 Andy Fliss, VP of Sales & Marketing of TvOne, whom we met at ISE in Amsterdam, told us: "The main novelty is the CORIOmaster implementations, which concern both software and network control. Furthermore, we can manage the signal both in SDI and in HDMI, embedding or de-embedding the audio. We are very happy with this year's ISE, although I note that, compared to previous editions, there has not been much innovation. I look around and I see the same spaces, the same brands, the same budgets!" Andy Fliss concluded with a smile.
Next year, therefore, for a relaunch of innovation!
www.tvone.com
This post is also available in: Italian