128
The key word of ISE 2019 for Sony is "solutions", as Nicolas Berg, Strategic Marketing Manager, confirmed. The stand set up in Amsterdam, in fact, stood out for the quality and quantity of the solutions proposed in different areas, from Educational to Corporate.
Different areas mean different products, and we know that the Sony world is vast and diverse. For Sony's participation in ISE 2019 it's necessary to insist on the concept of "solutions", and on the suitable products to carry them out.
It's almost an obligation to start from Collaboration, with REA-C1000, the latest Edge Analytics Appliance generation IA-based, designed to revolutionize presentations in Corporate and Education environments. "This solution" – says Nicolas Berg, Sony Europe's Strategic Marketing Manager – "aims to improve the experience of communication and understanding between speakers and the public, and further develops corporate collaboration in large meetings, between different teams that share the work on one project."


Edge Analytics Appliance is designed to work with Sony PTZ cameras as well as XDCAM camcorders, as well as individual users' laptops via HDMI connection. But "the Sony ecosystem" for collaboration and education is completed with Vision Exhange 1.2, a solution for active learning and interactive presentations, brought to ISE 2019 with various implementations, including better support for BYOD features, and especially with Miris Netcapture, developed by Sony with UbiCast, provider for content acquisition. With this solution, Sony intends to simplify the work of teachers, who can create more interactive and engaging video content for learning. Miris Netcapture is complementary to Vision Exchange: while this supports sharing and annotation in class of content from laptops, smartphones or tablets, Miris Netcapture acquires the contents transmitted by Vision Exchange and there transfers to UbiCast's MediaServer video platform, from where they can then be reviewed, managed and distributed. A real example of "social learning", in short.


"The teacher" – concludes Nicolas Berg – "is able to decide whether to register and, if so, what to send to the platform. In short, he easily manages the system. Students, on the other hand, can easily access the video platform from home and choose what to watch, which lessons or educational materials to download. Several Universities, also in Italy, have already adopted this system, which is spreading."
In the Sony stand, however, there were also – alongside the innovative solutions for collaboration – the "great classics", such as the Crystal LED monitors (in particular the remarkable 8K x 4K frameless screen) and the new laser projectors VPL-FHZ75 (6.500 lumens) and VPL-FHZ70 (5.500 lumens). These are compact laser models with WUXGA resolution that offer the interesting "Intelligent Setting" feature, which allows you to quickly and permanently configure the settings.



Also Smart Building and work environments were also adequately represented at Sony's ISE 2019, with the series of implementations presented for TEOS solutions. TEOS Manage 2.0 offers new controls and functions such as Universal Employee Application, Room Control – New Add-On and New Universal Meeting Room Sensor. In addition, voice control further improves collaboration in the workplace and systems management.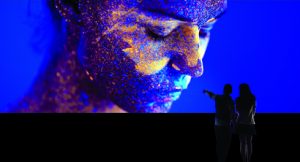 Finally, the launch of Virtual Production, a cloud on demand production service, meets live streaming requests for corporate and academic events. Virtual Production is designed to be compatible with the Sony XDCAM Pocket mobile app, which allows you to stream high-quality content on social media or a website, directly from your smartphone.
pro.sony/en
This post is also available in: Italian