181
Nashville, Tennessee, is one of those "mythical" cities in the American imagination, as well as in the country's cultural history; just outside the city, in Clarksville, stands the Mosaic Church, formerly known as Tabernacle Church and renamed after a profound restyling, which also affected the AV system, with the installation of the RCF TT (Touring & Theatre) integrated solution.
With over 50 years of ministry and community service, Tabernacle Church, located just outside Nashville, in Clarksville Tennessee, decided in 2017 that to keep up with their tremendous growth, they would undergo a monumental change with a grand new construction project, to reemerge as Mosaic Church—adding 65.000 square feet to their campus, including a 1.500 seat performance space. The original structure was a smaller sanctuary (about 200 seats). Recently through COVID, the church was mobile, moving its worship service to a local high school, setting up and tearing down in the parking lot each week.
The audio and integration company Holly Media took care of the modernization work, focusing mainly on the performance space, and the subsequent procurement of an audio system and its installation. It was Jim Reed, RCF product specialist and system designer, who directed the choice of integrator towards an RCF TT (Touring & Theater) system. Reed put together a complete system which included: 16 TTL 55-A active line array modules, four companion TTS 56-AS active subwoofers, two TT 25-CXA active floor monitors, and four TT 20-CXA active monitors for the stage. For added coverage, Reed also added nine HDL 26-A active line arrays for center and front fills for added coverage. At the helm is an Allen & Heath dLive s7000 mixing console.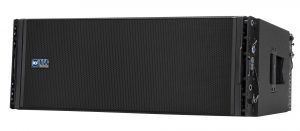 Upon completion of the installation, RCF product specialist Zachary Anthony was brought in to provide tuning, optimization, and training. "The sound quality from a TT rig is exceptional, and paired with the acoustic treatments, the room is near perfect", said Anthony. Mosaic Church celebrated with a socially distanced congregation of about 700 proud parishioners and many who contributed to the church's reemergence. "I wanted the diffusion to be completely natural, with good wall layout and quality acoustic treatments," said Fred Holly, owner of Holly Media.

TT + products represent the RCF proposal for music and concerts, artistic performances and sporting events as well as for vocal reinforcement and fixed installations, even in particular locations such as the Mosaic Church. It's a series of robust products that are easy to install and configure, with remote management and monitoring via the RDNet network. The series offers both passive and active models for all types of systems: point source, vertical and horizontal arrays.
Scalable and flexible, these products are increasingly chosen by designers and sound engineers, as confirmed by Jay Perdue, owner and designer at Perdue Acoustics, and the lead instructor of architectural acoustics at InfoComm University. "When I first saw the room design, I thought the shape of the room was very nice with no corners to deal with. I not only check a room for echo and reverberation, I conduct intelligibility testing as well. After a 13-point check throughout the space, it has the flattest response I've ever seen."
This post is also available in: Italian