61
New generation web conference cameras and touch screen controllers based on Q-SYS software: here are the news launched by QSC, a brand distributed in Italy by Exhibo.
QSC adds a new series of products to the well-known Q-SYS platform: new NC Series network conference cameras and new third generation of TSC Series touch screen controller. Native in the Q-SYS operating system, these products are highly scalable and seamlessly integrate with any Q-SYS system to meet the specific needs of all modern collaboration environments.
Let's start our discussion with the new NC series of network cameras, which includes three models. Q-SYS NC-110 is the first fixed lens PTZ camera available for the Q-SYS system, with 110° horizontal field of view and digital zoom capability for smaller and wider environments. Q-SYS NC-12 × 80 (12x optical zoom, 80° horizontal FOV) and Q-SYS NC-20 × 60 (20x optical zoom, 60° horizontal FOV) both offer pan, tilt and zoom (PTZ) capabilities motorized for use in a wider range of environments of different sizes and types. All NC series cameras include accessories to allow them to be mounted above or below displays, providing greater flexibility for a wide variety of uses.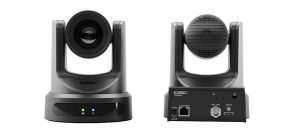 Being native Q-SYS devices, the NC series cameras eliminate the limitations of viewing, transferring and switching signals compared to typical USB connected point-to-point solutions. An AV stream is delivered to any modern video conferencing application such as Microsoft Teams Rooms, Zoom Rooms or Google Meet via a single USB A/V connection with no need for installation drivers on Host PCs.
As for the controllers, however, the Q-SYS TSC Gen 3 series has undergone a complete redesign to offer high performance and modern aesthetics, allowing intuitive AV&C controls for any space. Available in three sizes, TSC-50-G3 (5"), TSC-70-G3 (7") and TSC-101-G3 (10.1"), the controllers in this series offer higher resolution and improved response to screen transitions, plus built-in ambient light sensors for brightness control and a sleek new design.
In addition, the 7" and 10" models offer status indication via customizable RGB LEDs to indicate call conditions, muting, room in use, etc., as well as proximity sensors that reactivate the screen when a person approaches them. Integrators can also implement fully customizable user control interfaces (UCI) with a drag-and-drop UCI editor within Q-SYS Designer, the software used to create UCI, program the audio DSP and any control options.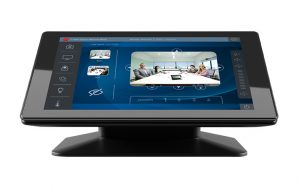 "With these new conference cameras and new controllers" – said Mike Brandes, Product Manager for Q-SYS video solutions at QSC – "we are demonstrating our commitment to providing scalable video conferencing solutions for collaborative environments in an attempt to create an equal experience for both remote attendees and room attendees. In addition" – concludes Brandes – "users can combine these new products with the smaller options of the Q-SYS Core Nano or Q-SYS Core 8 Flex processors to expand audio, video and control (software-based) for smaller spaces of collaboration." The QSC brand and Q-SYS products are distributed in Italy by Exhibo.
This post is also available in: Italian