One of the biggest challenges of ISE 2021 was creating opportunities for companies to showcase their innovations, which, by the way, were not lacking in Covid time.
Interesting market research, useful trend readings, energizing to see how the industry has reorganized and reinvented itself, instructive to attend Webinars and seminars, see ISE's reading of hybrid events… but trade shows exist – also – to showcase new products. Certainly one of the biggest challenges of ISE 2021 was precisely to create an opportunity for companies to present their innovations, which in any case were not lacking at Covid time. For this purpose the in-person area was available, which welcomed 35 companies for the visitors, mostly from Spain, who were able to attend; a specific channel on the ISE Digital platform was also dedicated to new launches: a series of videos to be selected and to be included in one's personal schedule.
Some companies even maintained the press conference, and Panasonic was among them: it was necessary to register as a journalist in order to attend the presentation entirely focused on 4K by Helmut Kulessa, the European Marketing Manager of Panasonic Business that we meet every year on the same occasion, with the Stefanie Harting's accompaniment. A new series of 1-chip DLP 4K resolution laser projectors for corporate, rental and entertainment applications, the PT-RDQ10, is on the way. The three models range from 8,000 to 10,000 lumens and can be integrated with the ET-DLE020 zero-offset ultra-short-throw zoom lens, which enables the projection of large images even in the tightest spaces. Also for high resolutions, the 5,200-lumen PT-FRQ50 combines Quad Pixel Drive functionality with exclusive 1-chip DLP projection technology with Solid Shine laser illumination. It also supports a refresh rate of 240 Hz/1080p with an input/output latency of less than 8 ms, a feature that makes it suitable for applications where the smoothest motion reproduction is required, such as simulations and eSports.
In response to the growing demand for large-scale projection in native 4K, shadow-free and at close distances, Panasonic also introduced the new ET-D3QW200 zero-offset short-throw zoom lens for the PT-RQ50K 50,000-lumen 3-chip DLP projector, designed for immersive entertainment experiences. Finally, the SQE1 series of 4K professional displays includes premium multi-touch models with InGlass touch technology or infrared technology, 4K UHD LCDs and long life, plus new multi-touch displays with infrared technology, designed for education or public areas with a focus on TCO containment. The formats range: from 55 to 86″.
business.panasonic.it/sistemi-visuali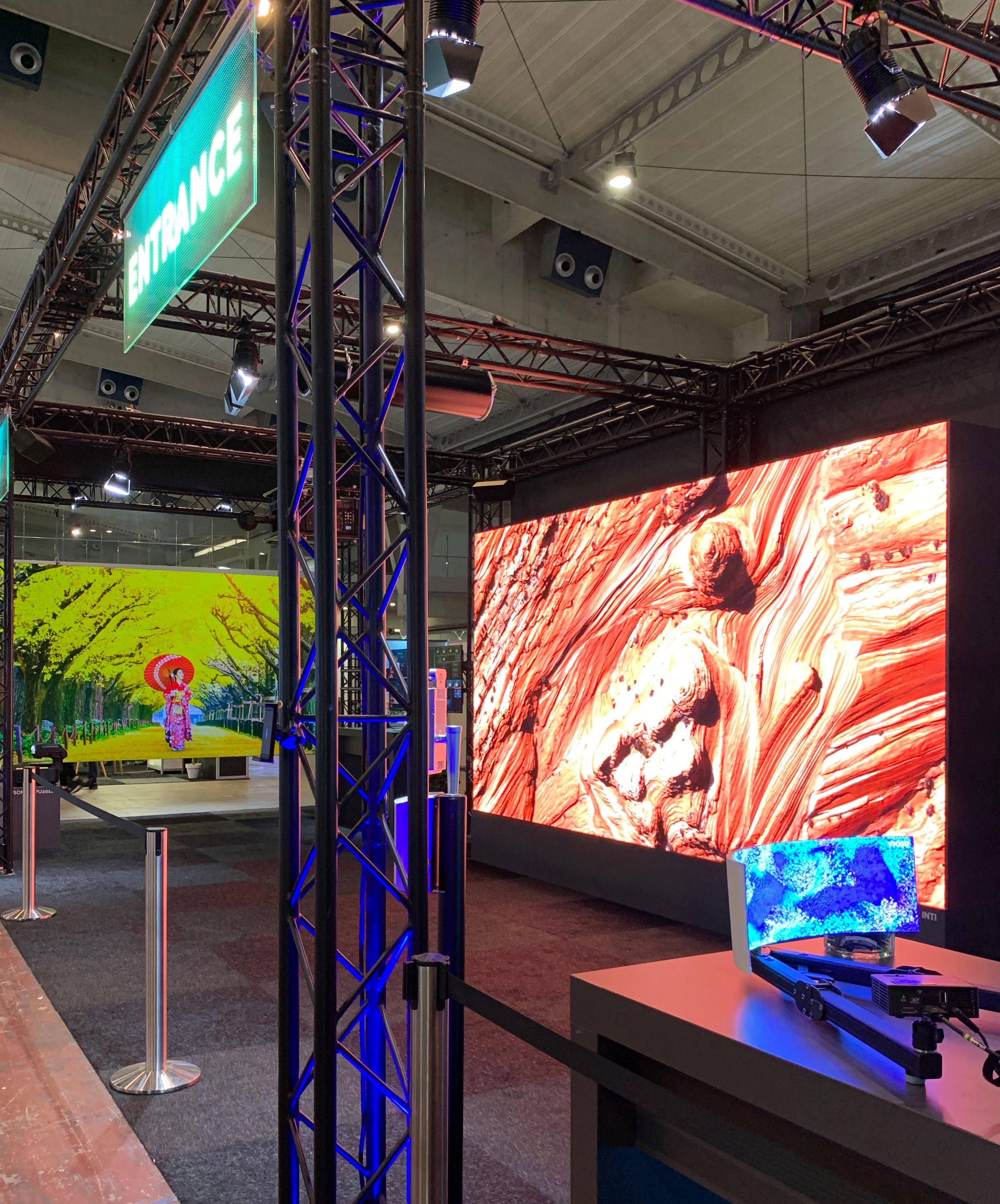 Lang, which we often talk about at ISE, was physically present even if it did not offer a press conference but a product presentation in the dedicated channel. Lang, which associates distribution with customization, often proposing applications and versions that become products in their own right, presented the new series of INTI LEDs: excellent image quality (if Lang says so, we can believe it), 2.6 mm pixel pitch, HDR optimization and robustness in the critical are corners thanks to the AOB coating. Also on display were QSTECH Crius LE LED, with a pixel pitch of 1.9 mm, and Nexnovo's NewEsign NT10 LED System LED with transparent support (92%), to be managed via the NexCloud application, and particularly suitable for fixed installations.
We close with a Spanish company, already present in the international markete: Equipson, which was exhibited in presence and remotely. Equipson presented at ISE the news versatile series of Entar speakers (ENT for entertainment and AR for architectural), both active and passive, in various sizes and models, with transducers from 8 to 15″ and output power up to 600 W. The active models are equipped with class D amplifier, internal DSP with equalization presets, positioning (on stand, as a monitor, etc.), HPF filters.