97
ISE opened as usual at about 10.00 yesterday morning with a ribbon cutting in front of the still-closed gates of Hall 2.
As everyone expected, the first day was full of crowded hallways and greetings to acquaintances who are inevitably encountered between visiting one stand and another. An edition with lots of news regarding video, among which we will highlight Panasonic, which was presented in the usual morning press conference. The expectations of a race to increase performance and brightness were quickly satisfied with the announcement of the new PT-RQ50K 3-chip DLP SOLID SHINE projector with laser technology, the first in the world with 50,000 lumens of brightness and 4K native resolution: a product that is also compact and manageable, in proportion with performance, which joins Panasonic's strategy of an increasing spread of experience-oriented projection during live events and thematic entertainment, as Helmut Kulessa, European Marketing Manager at Panasonic Business, explained.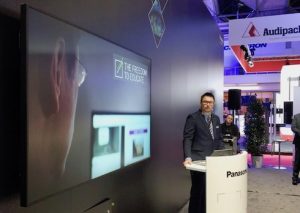 Another center of attraction at ISE 2019 is certainly LG's stand, which is not only of remarkable size and riddled with products sorted by the criteria of application, but is also particularly spectacular and attractive. Immediately from the opening, we saw the brand-new OLED screens with flexible structure, which made up the notable—in terms of impressions and size—LG OLED Falls installation, freshly arrived from CES in Las Vegas. The installation in Amsterdam includes 88 flexible "Open Frame" OLED displays, capable of wrapping around surfaces of various shapes and sizes, thanks to a broad curvature ray. Just next to them were the transparent OLED and Open Frame displays, intended for stores and exhibition spaces, which allow real products to be clearly seen behind the display while video and pictures are viewed in front of the object on the transparent panel. Finally, we highlight the LG Transparent LED Film: it is possible to apply it to any glass in order to turn it into a (truly) transparent screen that is animated by pictures and shapes. And it can be removed afterwards, too…
The last highlight comes from Samsung: an 82" LED wall (the size and proportions can be changed, though) with QLED technology, 8K resolution and 4,000 NIT brightness that is intended for residential environments.
It is essentially a TV, if we can call it that, of enormous dimensions that, however, can also become a "furniture" wall of the apartment itself, and be used as such; but the content and ways of use are of course yet to be thought of and invented.
This post is also available in: Italian