172
Prase Media Technologies has launched the new interesting ceiling microphone of the Tesira line with a dedicated day in Milan, where all the technical characteristics of the new product have been illustrated.
TCM means Tesira Ceiling Microphone: let's start from here, from the essential, to take a look at this new Biamp proposal for small and medium sized conference rooms. Biamp is a brand distributed in Italy by Prase Media Technologies.
The slogan with which TCM-1 was launched says it all: "Simply Track the Voice." It is an AVB Beamtracking ceiling microphone solution that focuses on the key concept of "directivity". In fact, what is the main comfort for anyone attending a conference or, better yet, a videoconference? The ability to naturally speak without changing position and without having to differently orientate the microphone. In this sense, TCM-1 takes a step forward compared to beamforming technology. Biamp has defined the new technological step "Beamtracking": in practice, a "voice tracking" mechanism allows the microphone to "discover" where the speaker is, automatically capturing his voice. The rest is done by the functions of automatic echo cancellation and automatic detection of the human voice, which excludes background noise.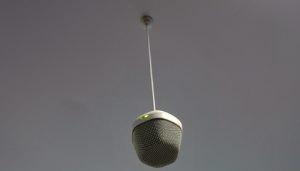 The system, in addition to the ceiling microphone, available both in black and white, consists of a single box, powered by PoE+ and can also be inserted in small interspaces, for example a false ceiling. A single network cable is sufficient to activate the system, the microphone is able to generate up to three contemporary 120° beams, thus following up to three people who simultaneously speak from different positions.
The applications are the conference rooms equipped for medium-sized videoconferencing, the multifunctional spaces increasingly common in companies and even the auditoriums.
The product is available in three versions: TCM-1 is the basic version, which is accompanied by TCM-1A (with amplifier) and TCM-1EX, daisy-chain extension to add microphones, useful for large environments. The PoE+ power supply of the central device also powers the extensions. With a Tesira FORTÉ AVB VT4 processor, it's also possible to manage up to four conference rooms, with considerable savings in terms of installation and management.
Another interesting novelty presented at the same time is the AMP-450P amplifier, useful for large conference rooms where signal amplification is needed.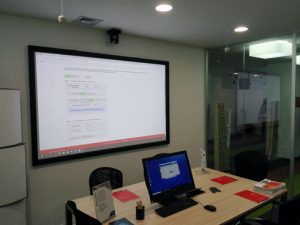 Finally, a note of merit for the new Epson Business Demo Center, the place where the presentation of the TCM-1 took place, in Cinisello Balsamo, near Milan. It's an elegant and multi-faceted space, in which Epson wanted to create different application areas for its products, from printers to video projectors, to show clients and professionals the application reality of the most modern technologies. Prase – with products of its brands – has equipped the Huddle Room and Conference Room environments, and the added value of the presentation – held on October 30th – was the possibility to test the new products in real places.
This post is also available in: Italian