104
The new LAVA Center in the Icelandic town of Hvolsvöllur, 106 km East of Reykjavik, is a high-tech interactive exhibit illustrating volcanic activity and earthquakes and allowing you to follow Iceland's geological history over the past million years.
The idea of the Center came to one of the founders on the occasion of the famous eruption, in April 2010, of the Icelandic volcano Eyjafjallajökull, which caused the cancellation of all flights on the Atlantic Ocean and in most of Europe.
The 2.500 sqm of LAVA Center was therefore designed and built as a fully immersive show. The location was chosen because it sits at the heart of some of the major Icelandic volcanos and allows five of the country's most iconic volcanoes to be seen.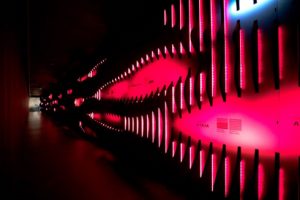 The AV equipment itself includes 14 Powersoft amplifiers with DSP onboard providing an economic power station to drive the 72 ch of zonal ceiling and surface mount loudspeakers, all in one of the four racks in the centralised technical room. These models comprise Powersoft Ottocanali 1204 DSP+ETH, Quattrocanali 4804 DSP+D (for Dante) and Quattrocanali 2404 DSP+D, while to create the sonic realism of an earthquake project designers Jakob Kristinsson and Bergthor Leifsson used of the Italian manufacturer's mighty M-Force Magnetic Linear Motor Transducers.


M-Force simulates the eruption of a volcano thanks to two M-Drive amplifiers that power two 15 kW mobile magnet transducers, in order to "move" a floor measuring 150 x 300 cm on both X/Y axes. It is the first time that M-Force is used for mechanical movement.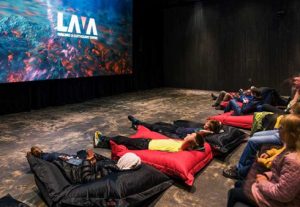 There are 15 multi-channel audio zones in use at LAVA Center, located in 10 rooms/spaces, including an outdoor one — variously triggered by MediaMatrix and Presonus sound cards. This includes 80 Audac speakers, 13 Audac subwoofers, two Danley subwoofers, 3 Panphonics flat panels in the ceiling for spot audio, 8 OnePoint Audio speakers, a 632 x 360cm Stewart Filmscreen Phantom HALR screen coupled with a 7.1 surround system sound card, for the movie theatre.
www.powersoft-audio.com
This post is also available in: Italian
You might also like
---
More from References
---
11
LG Electronics takes another step towards redefining the standard for commercial display technology by launching LG MAGNIT, a new Micro …