115
d&b at Prolight + Sound with new technologies, demo room and international guests.
The show was filled with innovations and exciting experiences at the d&b stand and demo room this year. Featured on the stand was the d&b SL Series – GSL and KSL Systems and new little wonder, the B8-SUB/Bi8-SUB, as well as the d&b enabling technologies, proving it's not just the big things that matter. Visitors to the d&b booth had the opportunity to see the small but mighty B8-SUB/ Bi8-SUB for the first time. At a mere 170mm tall the subwoofer's low profile belies an exceptionally high performance to size ratio. It's an ideal fit for tight spaces, be they fixed installation or mobile production environments, reproducing frequencies from 43 Hz to 170 Hz.
Prolight + Sound also offered visitors the chance to learn more about the Milan protocol and DS20 audio network bridge, the first d&b Milan enabled product, and the new d&b ArrayCalc Exchange SketchUp plugin which could be found at the d&b stand, designed to enable users to generate an ArrayCalc compatible venue file (*.dbacv) and load it into ArrayCalc.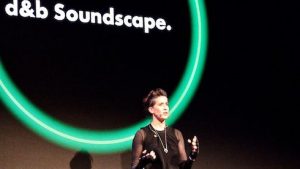 The d&b Soundscape surprise
In the d&b Soundscape demo room there was a real buzz with some very special guests; renowned theatre designer Sebastian Frost, Grammy award winning artist and engineer Imogen Heap, and Serge Gräfe, Sound Engineer and Designer for Kraftwerk, all offering unique insights into their experiences with the d&b Soundscape in the My Soundscape sessions.
Heap worked with the d&b Soundscape on her Mycelia European tour and will take it on tour in North America this year. In the session, part of a series of well attended User Experience events hosted in the d&b demo room, Heap spoke about her experience using the d&b Soundscape on tour and how the immersive experience that it created for the artist and the audiences has changed the live performance sound experience forever. "It's like going to see technicolor for the first time after only seeing black and white" Heap stated.
www.dbaudio.com
This post is also available in: Italian
More from Events
---

199
Limitless combinations of audio, video and control over the Q-SYS platform from QSC, based on an open and effective AV …