184
The PAW family of voice evacuation systems represents the perfect combination of versatility and safety from PASO: these EN-54 certified systems are attracting increasing interest in the EVAC sector, as evidenced by a recent tour through the world's leading trade exhibitions.
An audio distribution system in high-traffic spaces requires a combination of stringent safety regulations and a high degree of versatility of use; the areas of application for voice systems are numerous and the specifications are different in each case, resulting in a potentially infinite range of applications.
PASO has accepted the challenge, responding to the needs of the EVAC sector with two new voice evacuation systems, PAW5500-VES and PAW51K-VES: two systems that guarantee a wide range of options in terms of nominal power and the number of alarm zones that can be managed. The PAW 5500-VES range includes three voice evacuation systems – all with a power output of up to 500 W – capable of supporting two, four or six alarm zones. Its big brother, PAW51K-VES, doubles its rated power output, with two 1000 watt evacuation systems capable of handling four and six alarm zones. From the safety standpoint, these systems are specially designed for wall mounting and are equipped with a certified control unit in accordance with EN 54-16:2008.
What really makes these systems "smart" – in addition to the possibility of connecting them with other PAW systems through the dual line LINK – is their ability to interface with other multimedia devices: the SD card reader allows you to play audio files in .mp3 format from common memory cards, while a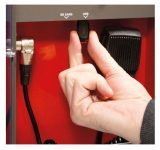 USB input allows you to connect any external device (such as a mobile phone, mp3 player, or hard disk) for music streaming. Both systems can be controlled through a 4.3″ backlit touch-screen display, which allows you to configure the devices, adjust the alarm zones and check for faults or malfunctions. The independent three-band equalizer for each alarm zone and the possibility to broadcast pre-recorded emergency messages also ensure maximum customisation of the system, which can also be managed remotely through a dedicated App that can be downloaded from the most popular digital stores.
This versatile pair, with characteristics that make them ideal for installations ranging from small spaces to large public areas, is attentive to the particular audio distribution requirements typical of environments such as shops and shopping centres, where acoustics and good intelligibility play a crucial role not only in terms of safety, but also in terms of psychological engagement, acoustic comfort and purchasing incentive.
This post is also available in: Italian