133
The "Ilfishalle" stadium in Langnau, home of the SCL Tigers, has been recently equipped with a Panasonic video surveillance system
Panasonic's 4K, Full HD and Dome cameras watch over the safety of players and viewers of the ice hockey stadium "Ilfishalle" in Langnau, Switzerland. Installed both inside and outside the implant, Panasonic cameras offer an avant-garde and reliable video surveillance system. As Peter Müller, CEO of the SCL Tigers, explains, "the stadium operators must be able to review the video material of the stands and the areas outside the stadium within hours of the incident taking place."
But we see the system in more detail, starting from the 4K WV-SFV781L dome cameras mounted above the forums, a strategic point to track both the opposite and the side areas from one position. These cameras have been chosen precisely because, offering 4K resolution, they allow a four-fold view higher than the one guaranteed by the 720p range and even nine times higher than the 1080p cameras. The entire length of a stand can be monitored with just two cameras. With 6x optical zoom you can also identify objects and people and document small details.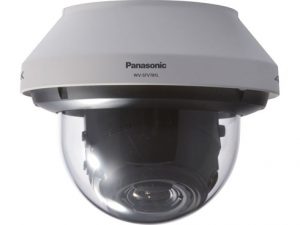 Another model used in the project is the WV-SFV631, a vandal-proof camera ideal for monitoring angles and narrow spaces. Thanks to Auto Back Focus (ABF) and Remote Zoom, installation is made easier because the camera can be set with a laptop or from a PC. Thanks to the "Deep of Field" (DoF) feature encountered in photography, both close-up and long-distance images are sharp at all times.
To ensure flexibility when monitoring outside and inside the stadium, the WV-SW598A, a full HD IP dome camera with PTZ function is used. This camera provides a 30x optical zoom and also features a vandal-proof IP66 housing. The WV-SW598A is an intelligent camera which offers excellent performance even in rain, snow and fog thanks to analytics.


For recording purposes, the WJ-NV300 model is used. This is a network hard drive recorder to which up to 32 video channels can be connected, and has an intuitive and straightforward graphical user interface. Live recordings and recording in real time (30 fps) are possible on all channels. In addition, via the built-in splitter, an additional monitor can show the entire ice hockey game as an overview. As a result, searching for or exporting photos or video sequences is very easy and is possible on the recorder itself or a network PC.
http://www.panasonic.com/it/
This post is also available in: Italian