140
Panasonic launches a new medical image recording system based on 4K portable camera and features networking capabilities for IP control and streaming
The system is called POVCAM and was presented by IVM (Industrial Medical Vision), the medical division of Panasonic. POVCAM consists of the AG-MDR25, compact portable recorder, and AG-MDC20GJ, a 4K camera, and allows you to capture images in 4K, as well as offering advanced IP control and streaming features. The new POVCAM replaces the previous Full HD system, AG-MDR15/AG-MDC10, and is designed for many applications in the medical environment such as training and production of surgical documentation.
The AG-MDR25 recorder offers dual SD memory card slots (SDXC), advanced high-quality compression, and 4K/UHD image capture in a compact, portable drive. The touchscreen control panel and the buttons are covered with a membrane that allows disinfection. Additionally, a 3,5" color LCD monitor is included to facilitate visualization; this monitor can preview the images and play them back in reverse if needed. The ultra-compact AG-MDC20GJ camera is equipped with a 20x optical zoom lens that covers a focal range which goes from 29.5 mm to 612 mm.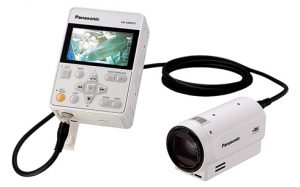 In addition, AG-MDC20GJ includes a five-axis hybrid image stabilizer. Also interesting is the new surgical illumination mode inserted in the new system, to make it even more suitable for this delicate application.
Finally, the new recorder supports IP control and IP streaming via the LAN terminal, which distributes audio and video streaming over local networks and allows access to PCs and tablets via Web browsers. The camera can also connect to Panasonic remote camera IP controllers. A new HDMI output further improves connectivity.
http://www.panasonic.com/it/
This post is also available in: Italian