172
On April 17th, with a multi-voice press conference, was inaugurated the installation created by Panasonic Design team for the 2018 edition of the Fuorisalone: a big "drop" that celebrates the 100th anniversary of the company, reflecting on climate, environment and technology
Tradition and technology have always been at the center of the fascinating installations that Panasonic has been offering to Fuorisalone visitors for several years, during the Milan Design Week. The 2018 edition coincides with an important anniversary: the 100th anniversary of the Japanese giant, which is thus preparing to enter the second century of life. And it does so by "touching", as always through technology, sensitive topics such as ecology, relationship between man, art and climatic environment. The installation of this year has a great scenographic impact, located in the heart of the Academy of Brera: a large "drop" delicately placed in the courtyard of the Academy, within which it is possible to breathe the purest air of Milan, realized thanks to the Panasonic air conditioning technologies, in particular Silky Fine Mist, which diffuses atomized microparticles of water for all the 20 meters of casing diameter, and Nanoe X, air purifier.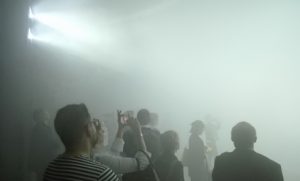 But there's more. Inside the "drop", a game of fog and projections (in 4K with laser projectors), as well as sound processing, immerse the viewer in a different reality, almost alien, suspended and ethereal. The design becomes ethereal, "made of air", and reinvent itself once more, in the hands of the Panasonic Design team led by Dr. Shigeo Usui.
And just dr. Usui, during the press conference, presented the installation and the concept of "Transitions", identifying the most important branches in the development of Panasonic design and technology: Culture, Living Spaces and Community.


"For the next 100 years" – he said – "Panasonic does not want to limit itself to building objects, but sensations and experiences. We decided to name Transitions our contribution to this year's Design Week because the idea is to change, to evolve and to inaugurate Panasonic's next 100 years."
The future certainly contains many challenges, and Panasonic is preparing to address them – as usual – without forgetting the tradition: "Our goal is to improve people's quality of life", said Laurent Abadie, CEO of Panasonic Europe.


"The world quickly changes, but our values remain the same: to continue to innovate and to confront ourselves with the design, with the materials and with the spaces of human existence. We need inventiveness and flexibility, to achieve those transitions required by the challenges of today's world."
The Panasonic initiative at Fuorisalone is completed by "Transitions in Conversation", a series of talk events that will take place at the Sala della Passione of the Palazzo di Brera, to discuss the three key themes indicated by Shigeo Usui: "Culture", "Living Space" and "Community".
"Transitions" will be open until April 22nd.
https://www.panasonic.com/it/
This post is also available in: Italian
You might also like
---
More from References
---
15
Important news from the German d&b audiotechnik brand, which enriches its loudspeaker systems family with the new 44S: high performance …