146
Equipped with a proprietary chip, specially designed, here is Smart Audio by Noveto, the result of the company's collaboration with Foxconn for a revolution in the world of audio
Noveto is releasing the first part of its Chipset, driving Noveto Smart Audio, a dynamic focused sound solution, enabling to precisely generate sound to the users' ears. The goal is mass production by 2021 or incorporation by third parties or as an autonomous soundbar. Noveto Smart Audio technology could be easily embedded in leading consumer electronics devices be it Personal Assistants (be it by Amazon or Google), Smart TVs (such as by Samsung, Xiaomi), Monitors and Displays (such as Dell, HP), PCs & AIO (be it Lenovo, Dell, HP or others), Conference Call solutions (such as Poly's or Yamaha's) or any other appliance generating audio to the user.
The result of the collaboration with Foxconn, a well-known global leader of advanced manufacturing, Smart Audio technology is based on Noveto's proprietary smart algorithm, beamforming technic, face detection, tracking capabilities and state of the art DSP engines; the synergy between these techniques allows to identify the position of the user's ears in space and beam acoustic energy to create tiny sound bubbles next to the user's ears. When the user's head is moving the sound bubbles will dynamically follow the user. Noveto's technology enables sound to be dynamically steered and focused. Hence, each user in a confined space (be it a living room, conference room, vehicle or any public space) can experience hers/his own audio content without using isolating headphones or sound polluting traditional audio speakers. Noveto Smart Audio significantly reduces the sound pollution.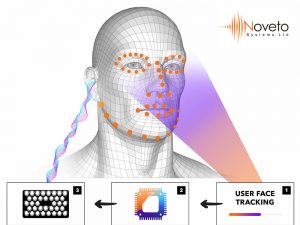 Noveto is controlling the acoustic waves generated from its unique device with the first ever dedicated Chipset handling numerous audio channels enabling the Noveto sound system to create full stereo, surround and 3D sound.
The applications of this technology could be very interesting, for example, to the digital signage market, which does not always manage to adequately exploit the audio signal.
This post is also available in: Italian