39
The new generation of large format displays presented by Sharp/NEC Display Solutions is called MESSAGE. Three new series in the catalog: Essential, Mainstream and Advanced.
Sharp NEC Display Solutions Europe has launched the completely redesigned range of MESSAGE large displays, divided into three series: NEC MESSAGE Essential (ME), NEC MESSAGE Mainstream (M) and NEC MESSAGE Advanced (MA). All MESSAGE models offer flexibility, ease of use and technical features that make them ideal for covering, depending on the series, signage entry, mainstream and professional applications in the retail and corporate sectors. The modular design, however, is dedicated to meet both the current needs of customers and any future needs.
Let's look at the offer of the individual series in a little more detail, starting with ME (Essential) Series, which represents an opportunity for those who intend to transform into digital their communication. Ideal for tight budget settings, ME Series displays offer integrated USB MediaPlayer and out-of-the-box playback of signage content. Thanks to the modular approach, users can upgrade to the NEC MediaPlayer solution based on RPi4, which offers the flexibility to create, program and broadcast content that is always current and updated. By supporting installation in both landscape and portrait mode and ensuring continuous operation for up to 18 hours, ME displays allow retailers, restaurants and small businesses to convey dynamic and entertaining advertising messages.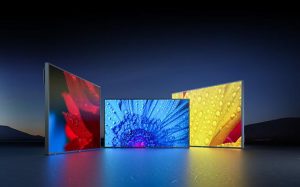 The M (Mainstream) Series offers a slimmer and more modern design, 24/7 operation and a high "haze level" of the panels, to reduce reflections in the presence of high ambient light: in short, a series of professional level products to convey corporate messages at reasonable costs, ideal for enterprise users in meeting rooms and for signage applications in the leisure, entertainment, retail and educational sectors. Thanks to the optional NEC MediaPlayer and the more powerful Intel Smart Display Module computing module, users have a wide choice in content playback, with the ability to create schedules and high-level viewing experiences.
Finally, the MA (Advanced) Series offers advanced technical features for specialist applications. The wide color gamut (WCG) panel, technology, SpectraView engine and 8K signal processing place the MA Series in the high-end range of the professional market. Through the integrated SDM slot, the modularity of the system makes it adaptable to the needs of reproduction and distribution of contents in a very intuitive way. Equipped with an integral audio amplifier, multi-picture technology and extensive connectivity, the MA series has all the versatility needed for corporate signage applications, in prestigious stores or control rooms.
This post is also available in: Italian