242
RCF has launched three new speaker models with innovative electro-acoustic technologies that combine custom designed transducers, a constant directivity waveguide, FiRPHASE processing and the brand new Bass Motion Control algorithms driven by a 2100W amplifier.
Durably built in a rugged wooden enclosure, NX 9 is tour-ready, and delivers remarkable audio performance and versatility to any professional audio application. The NX 9 series consists of three new models, ranging from 10" to 15" woofers, and shares the same 2100 Watts power amplifier (50% more powerful than previous models). NX 915-A is the largest, most powerful model of the series delivering a 131 dB maximum SPL and is able to deliver stable low-frequency response down to 45Hz. NX 912-A and NX 910-A can produce 130 dB SPL with clarity of sound and exceptional power to weight ratio.
Performance improvements are assured with the new 1,75" compression driver with Polyimide-Kapton dome featuring a new bonding technology and reinforced ribs that make it 10 times more durable than previous models. The combination of purpose-designed woofers and the constant directivity waveguide produces coherent coverage on the listening area.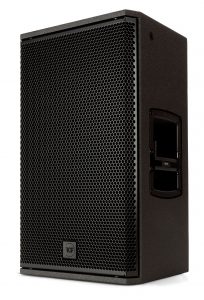 These components work in harmony with two RCF exclusive DSP algorithms, one for phase linearization and crossover design, the other for woofer excursion management. FiRPHASE, a digital FiR technology, allows for a coherent distribution of sound without phase distortions, ensuring minimum latencies to the system. With proprietary FiRPHASE technology, the new shape, and the placement of the vented ports, the speaker now acts as a single source for a true sound image. The woofer excursion management feature, Bass Motion Control works by creating a complete map of the dynamic behavior of the transducer, to generate a custom algorithm that only limits over-excursions. This gives total freedom of signal reproduction, avoiding both high-pass filters and large-band limiters.
The sleek black cabinet is made of high-strength wood coated with a black and robust polyurea coating. The speaker is easy to move and transport with ergonomic handles on both sides. The bottom side includes a steel pole socket for mounting on a stand or subwoofer pole. Each model can also be flown, wall- or truss-mounted using multiple M10 rigging points and special accessories.
This post is also available in: Italian