134
Breaking down barriers between generations and musical genres.
In Florence, at the Garden of Palazzo Corsini al Prato from 29 August to 1 September, the second edition of The New Generation Festival was held. The Festival was put on by three young English producers – Maximilian Fane, orchestra director; Roger Granville, producer, director and writer; and Frankie Parham, producer of cinema, theater and comedy – and was brought about in collaboration with Corsini Events Group with the objective of breaking down the barriers between generations and musical genres, aimed at the best musical talent (under 30) chosen from among international conservatories of high artistic education. The program included a succession of symphonic concerts with some of the best operas, with protagonists (obviously) being very young artists from across the spectrum, interspersed with moments of interaction, all outdoors in one of the most fascinating and inaccessible private gardens in Florence.
A festival of the new generation, but also a new generation of festival due to the solutions and technical strategies that characterized it (even more in the second edition than in the first): let's find out why.
Operas and Classical music outdoors
The big news this year had to do with the acoustics of the theatre: as opposed to the first edition, in which there was no amplification, for this edition the organization hired PowerRent, already involved with the event's technical direction and lighting, to develop an audio project that could improve the listening experience. Operas, as a matter of fact, were created to be naturally amplified by the structure of a theatre, a structure that generally guarantees a warm, enveloping reverb that is very appreciated in lyric music. But when music is performed outdoors, both the natural amplification and the reverb are drastically reduced, bringing a more confusing and detached experience. This was the challenge faced by PowerRent: create an audio installation that can recreate the sensation of an acoustically-ideal environment for the performances, but with two conditions: the speakers must be invisible, and do it in such a way that the audience is unaware of the presence of an amplification system.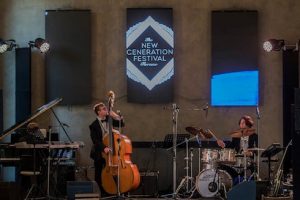 PowerRent embraced the challenge and, thanks to a partnership with Exhibo, turned to the company K-array, well-known in the professional audio market for their nearly-invisible speakers that feature a very natural and transparent sound, a fundamental characteristic to guarantee that the timbre of the voices and instruments present on the stage is not altered.
PowerRent and K-array thus developed a design that included a primary LCR installation composed of four Python-KP102 2m arrays – full-range column speakers, fit for usage outdoors thanks to the IP54 protection factor – that were opportunely positioned to generate a projection that reaches the audience but only marginally touches the stage, on which 16 Sennheiser radio microphone systems for the singers and about 44 microphones for the orchestra were also present. Front-fill and side-fill, also made of Python-KP102 columns, instead handled covering the seats nearest the stage in order to create spatialization effects.
To recreate the warm, enveloping sound typical of a closed, acoustically-treated environment, Kobra-KK102 columns (with similar features to the Python speakers but for smaller environments) were installed on the towers located behind the audience, generating an extremely natural reverb. We were able to listen to it and it was indeed nearly unnoticeable, as long as the installation wasn't turned off: only then did we realize how fundamental it was in order to fully appreciate the musical experience.
A stage monitoring system, also Kobra-KK102, hidden by specially made fabric inside the trusses and a set of well-camouflaged subwoofers completed a practically invisible sound system that at the same time was essential for guaranteeing a listening experience worthy of the best theatres specifically designed for opera.
newgenerationfestival.org
www.k-array.com
www.exhibo.it
This post is also available in: Italian
You might also like
---
More from References
---
20
Important news from the German d&b audiotechnik brand, which enriches its loudspeaker systems family with the new 44S: high performance …