138
Shure, among the most sparkling and innovative brands distributed by Prase Media Technologies, launches the new firmware update for Networked Systems products, officially presented at ISE 2020.
Names like Microflex Advance, IntelliMix P300 and ANI Audio Network are certainly familiar to anyone who hangs around the world of A/V and systems integration. These are some of the best known and most important Shure products, now united by the release of the new 1.4 firmware version, which brings a series of interesting new features.
As the Shure Networked Systems product platform is continuously growing, the launch of regular firmware and software updates is particularly important, because the products remain competitive and suitable for facing new market and application challenges. It's known, in fact, that the market continually requires new features, in particular to products already known and affirmed which, precisely for this reason, are often chosen in application and installation contexts.
So let's see the main news of 1.4 firmware version for Shure Networked Systems products, which substantially bring greater functionality and integration of third parties, with a marked development of IT-friendly features. First of all, Dante Domain Manager compatibility support for the Audinate network software tool, with role-based security: this will ensure that the audio network of Dante-enabled Shure devices is even more secure and scalable, especially in large applications such as campus or enterprise.
Among other news:
AES67 Networking: all Shure Networked Systems products utilizing the Ultimo chipset, including MXA310 and ANIs, are now fully aligned with support of the AES67 networked audio protocol.
Comprehensive Mute Sync Capability: USB mute sync functionality and improved performance of P300 and ANIUSB-MATRIX with leading software and hardware codecs including Zoom Rooms, Microsoft Teams, Skype for Business and now also Cisco hardware devices.
Deployment Workflow Improvements: with the new 4.1 firmware , the P300 and ANIUSB-MATRIX require configuration via the updated Designer System Configuration Software, providing more streamlined control of these devices along with MXA microphones for one intuitive experience. The updated Designer software supplants some of the features that were previously accessed via the web user interface.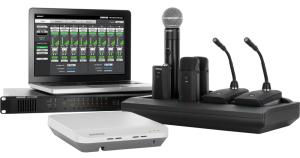 Firmware 4.1 also provides new capabilities for sound reinforcement applications that have been added to the P300, including more direct outputs, an expanded matrix mixer, and additional Dante outputs. Firmware and software updates are available from February 2020; you can easily update your products using the Shure Update Utility.
This post is also available in: Italian