64
NEC launched a new range of Direct View LED solutions that offer plug-and-play visualization on a large scale even in the brightest and most difficult environments
NEC Display Solutions Europe has announced two new series of Direct View LED screens that make every application possible to take advantage of high-resolution dynamic content in any environment. The NEC LED bundles of the FE series are complete solutions for screens of different sizes starting from 110", with pixel pitch steps ranging from 1,2 mm to 3,5 mm, with resolution up to UHD.
Available in both wall mount and self-supporting versions, these new solutions are designed essentially for applications such as large-scale presentations, video conferences or video walls in the auditorium, all without frames that interrupt the images.
Thanks to the construction features of the rear and the internal wiring system, the maintenance of the FE series displays is entirely frontal; moreover, since the displays do not need to disperse the heat at the rear, they can be installed very close to the wall, solving space problems.
The NEC LED A digital poster series is instead made up of ultra-thin and very light displays and is designed for mobile signage and wayfinding applications. These display can easily replace the roll-ups used during events and in the retail sector, offering plug-and-play operations thanks to an integrated media player. Furthermore, the LED A series is particularly robust and finished with an external layer to avoid accidental damage in public places installations. Both the LED A and FE series displays offer high contrast levels even in the brightest environments.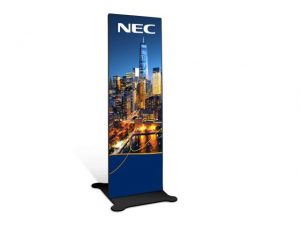 "With the new LED FE and LED A series, NEC has combined German engineering with Japanese quality control to create a portfolio of robust solutions, suitable for many applications, from video walls for presentations and infotainment to mobile applications, wayfinding and dynamic advertising", explains Enrico Sgarabottolo, TIGI Sales Director of NEC Display Solutions Division.
In fact, thanks in particular to the acquisition of S[quadrat] in 2018, NEC's LED solutions arise from an intense and accurate product development process, which is primarily based on customer needs. Both the LED A and FE series are accompanied by an after-sales network, with various services on request through NEC ServicePLUS.
This post is also available in: Italian