83
Harmon AV, an events production and sound integration company based in Fort Myers, Florida, recently carried out an important upgrade of the entire audio system at Burnt Store Presbyterian Church in Punta Gorda, using an active RCF HDL line array system.
With COVID restrictions lifted statewide, Harmon AV has seen a steady increase of integration business over the past few months and a big push with clients wanting to improve sound quality, become more digitally capable, and stream video online.
One notable installation was a complete system upgrade at Burnt Store Presbyterian Church (BSP) in Punta Gorda which features an RCF HDL active line array system. The BSP's audio system it was 20-year-old and was in dire need of an upgrade. The integrator's choice, for its sound quality, vocal intelligibility, and overall install flexibility, fell on RCF's HDL 6-A system.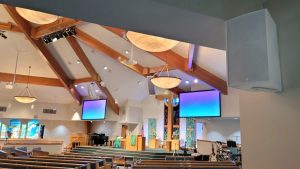 "My experience with the HDL 6-A was that I really like how the box is voiced", said Bobby Harmon, co-owner and integrator at Harmon AV. "I've been very impressed with how they're tuned, I knew it would be a really good fit. For me it really wasn't a matter of choosing a passive or active, it was about choosing the right solution for the space—and it happened to be active."
For the low-end Harmon placed two RCF SUB 8004 Active Subwoofers on each side of the stage. "The original design was to fly the subs, but we made the esthetic choice of hiding them on the floor. We put one behind the band, the other side next to the organ. They complement the HDL 6-A very well", added Harmon.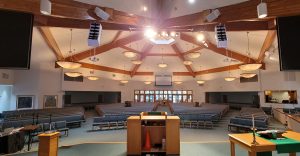 To improve the overall experience for the pastors, Harmon installed two RCF M-1001 Passive Speakers, powered by one RCF IPS-2700 Power Amplifier for stage fills, giving pastors some voice lift with basic stage monitoring. "The challenge for us was to find a PA that was properly voiced and was going to cover the room for varying types of services", said Harmon. Other acoustic challenges throughout the church included echo and bounce-back (problem solved thanks to RCF line array) and power sequencing, accomplished by an electrician who added other additional power throughout the room.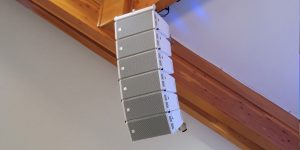 The concluding statement by Bobby Harmon expresses all the satisfaction with the work done: "I find the ease of an active system is really nice, not having to match amps, the RCF system didn't require very much tuning either, the modules are very flat out of the box, it sounded great with little effort."
This post is also available in: Italian