178
The new NEC Media Player is modular and free and is designed to offer high-level performance, multimedia management and future-proof signage solutions
NEC Display Solutions Europe announced Raspberry Pi, its latest MediaPlayer for digital signage solutions, featuring pre-installed software at no additional cost, ease of set-up and management, out-of-the-box performance and possibilities of customization. Raspberry Pi is an intuitive and plug-and-play digital signage solution, easy to install and customize, to create immersive visual experiences in real time and to gather dynamic and updated information and messages.
The new modular SoC Media Player solution can be easily integrated into all NEC displays that include the Raspberry Pi slot. This allows remote management both with single and multiple screens, configuring a playlist with the browser and directing the video content with the possibility of centrally managing the devices. You can also choose different media formats and web content for any type of need.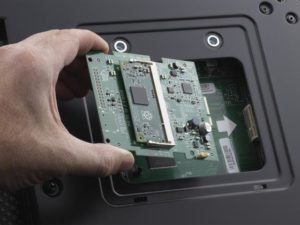 The modular nature of the NEC Media Player is a guarantee for the future. Nils Karsten, NEC Display Solutions Europe's Strategic Alliance Manager, commented: "The unique key feature of our new Media Player is the ability to operate as a hub for partner companies in order to allow a linear installation of all supported CMS systems, directly through our Media Player. In the face of future needs or market changes, we can even extend its functionality and increase its performance."
"Thanks to its size comparable to that of a credit card" – said instead Eben Upton, Chief Executive of Raspberry Pi Trading – "the Raspberry Pi module is increasingly adopted by business users and is chosen for a wide range of applications industrial and professional, as for production and point of sale automation. The new NEC Media Player has simplicity and open design in line with the Raspberry Pi philosophy."
NEC MediaPlayer will be available from February 2020 and will be pre-installed on all V Series LCD displays, but will also be compatible with any NEC display that supports Raspberry Pi integration.
This post is also available in: Italian