128
The future of cinema was the focus of CineEurope 2019, held in Barcellona from 17 to 20 June, which was also attended by NEC with new technologies and case studies dedicated to cinema.
NEC participated at CineEurope 2019, in Barcelona, from 17 to 20 June, and presented the latest technologies and a series of case studies dedicated to cinema.
The cinema industry in Europe has experienced a violent contraction in earnings with a 3,3% decrease in revenue in 2018 (more than 230 million euro less than in 2017) due to competition from the media offer demand and streaming. But cinema continues to exert an unquenchable fascination. Investments in new technologies aimed at highlighting the value of the cinematographic experience, not only in the screening room but in all the various environments that make up a modern cinema, are making up for real cinema.
NEC's contribution starts from the new NC2402ML modular cinema projector, which integrates a modular laser light source, offering very clear laser images and using a modular approach that allows cinemas to connect the appropriate light module on the base of the required brightness.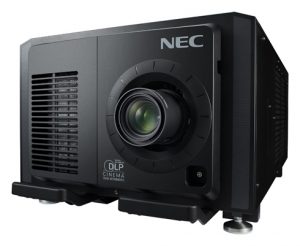 Also interesting are the financing possibilities linked to this new projector, entitled "Light as a Service", thanks to which it's possible to purchase the appliance in leasing to reduce and spread the costs. Moreover, in the event of a fault, malfunction or reduction in brightness, immediate replacement of the laser light source is envisaged.
In addition, NEC has also brought its latest wall-mounted or floor-mounted touch screen displays to Barcelona in impressive video wall structures, including for digital signage with Direct View LEDs.
In summary, the highlights of NEC at CineEurope 2019 were: the new modular NC2402ML projector, the 55" and 98" large-format C Series displays, the 55" Touch Table, the 86" C Series displays and the 137" dvLED screens 5×5 from for movie previews. Finally, the 55" high brightness displays, the 75" displays with outdoor cabinets and the 55" Mirror Glas displays for digital movie posters and trailers. Cinema is not just a big screen: it's a very rich area in potential and applications.
So Alain Chamaillard, Head of Cinema EMEA and CIS of NEC Display Solutions Europe, summarized the moment: "Cinemas are facing unprecedented competition in many countries of the world. In 2017, for example, in the United States there has been a decrease in spectators with a turnout that has reached the lowest level of the last 25 years, and the data for Europe are not much better. The key factor to give a new impulse to the cinema is to offer the public a special experience again. Technologies like 4K and 3D are obviously important, but it is equally important to create a unique experience in cinemas. This explains the birth of new visual experiences like the one linked to the concept of the Secret Cinema or the Gourmet Viewing or even the Hot Tub Cinema."
www.nec-display-solutions.com
This post is also available in: Italian
You might also like
---