216
Video walls have become an integral part of contemporary AV scenarios and are increasingly taking over the tasks previously performed by projectors. When it comes to presenting high-resolution and detailed content on the largest possible display area, there is no way around a video wall installation. However, video walls not only show significant improvements in terms of quality and brightness, but the possibility of varying the arrangement of the displays also allows much more freedom for creative solutions in terms of the size and shape of a video wall
For this to work, three factors are important: distance extension, scaling and variable display orientation. Extending the distance between devices is vital as the video sources are usually not located in the immediate vicinity of the displays. Scaling the resolution helps overcome compatibility issues as content resolution is often different to what is required by the displays. And, especially in the area of presentation and information, it is often important to stand out through creativity and originality. All three factors mentioned above are made possible by Lindy hardware solutions, which work behind the scenes in secret, but whose effect is directly visible on the video walls on a large scale – it's all about the things you don't see.
video wall applications in all its diversity
Since video walls are used in a wide variety of designs in this scenario four different video wall applications (IP based, over long distances via fibre optics, individual shape and matrix-based) were integrated into one solution. Fibre optic, Cat.6, IP and active cable solutions are used as extender technologies. Multiple signal sources can be shown in different contexts on different displays and video walls in a range of environments including auditoriums. The products used in the solution are described in detail below.
IP video wall using networks
If video walls need to be flexibly scalable in the number of displays used, for example because there are plans to operate them with 2×2 displays at the beginning, but then with 3×3 or even 4×4 displays after a later expansion. In this scenario the inexpensive Cat.X cable is almost always the most suitable transmission medium and the TCP/IP transmission protocol is the most suitable technology, so that existing network infrastructure (cables, connections, switches etc.) can be used without restrictions. The exciting thing about such a configuration is that when network switches are used, only a single network connection is required directly at the video wall and at the source devices on the distance between the two switches. All that is required is a Gigabit network at the source device, the transmitters of an IP extender system and a matching receiver per display.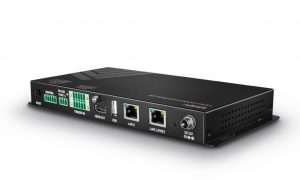 In this solution, an IP video wall controller, which also simply needs to be connected to the network and configured appropriately, handles the coordination, the division of the source content into the partial content of a video wall and the distribution of the partial content to the correct displays. With a video bandwidth of 10.2Gbps, this system can transmit 4K resolutions up to 3840×2160@60Hz 8bit 4:2:0 over the network. Therefore, expandable video walls can be set up on existing networks with little effort and very easily and flexibly adapted to changing conditions.
300m fibre optic hdmi 18g extender

When high resolution content is presented on 4K displays in public spaces – and at a large distance from the usually centrally located source devices – the question often arises of how this content is to survive transport over the considerable distances between source and display without loss.
For distances greater than 100m, the focus here is clearly on fibre optics as a transmission medium. The Fibre Optic 18G Extender uses standard LC duplex cables of class OM3, which can be used in the required length of up to 300m, making the system flexible and easy to adapt to specific requirements with little effort. With its bandwidth of 18 Gbit/s it transmits resolutions up to 3840×2160@60Hz 4:4:4 8bit. It is capable of up to 12bit colour depth and, in addition to several HDR formats such as HDR 10, Dolby Vision and HLG, enables various multi-channel audio formats such as Dolby Atmos, True HD and 7.1 with a sampling depth of 24 bits and a sampling rate of 192 kHz.
The EDID data is simply passed through between the source and display to negotiate the correct settings. The system transmits copy-protected content thanks to the implementation of HDCP 2.2. The system's compact size allows it to be used in confined spaces, and the fly-leads on the HDMI side of both the RX and TX provide increased reliability.
flexible video wall scaler variable shape & size

Presentation and display on video walls represent a market segment with some of the most significant growth rates in the entire AV hardware sector. This makes innovative product ideas more important as they give users room for creativity and solutions to their problems. Why, for example, should the displays of a video wall in landscape format be arranged at right angles when they can attract the attention of viewers much better in a different arrangement? The Flexible Video Wall Scaler sets new creative standards for video walls. Preconfigured display arrangements, cascading and user-friendly on-screen displays allow countless configurations for regular and unusual, up to very unconventional, asymmetrically arranged video walls.
Designed specifically for use in retail, advertising, commercial and hospitality installations, the scaler supports a variety of predefined presets for display placement and orientation. Input resolutions up to 4K UHD 3840×2160@30Hz distributed to the HDMI outputs with resolutions up to Full HD per display ensure a smooth display of video content. The implemented support for HDCP 1.4 ensures that even with copy-protected content the displays do not remain dark. Combined with other AV products – as in our example with Cat. Extenders – complex application scenarios with signal transmission over large spatial distances can be realised for back-office solutions.
8×8 hdmi 18g matrix with video wall

The high performance 8×8 Seamless Matrix Switch (No. 38260) for resolutions up to 4K UHD 3840×2160@60Hz, offers some additional features that go far beyond the usual functionality of a matrix switch. Selectable outputs can be linked together, which can then be output as one of the 8 input signals as partial images of a video wall with n * m displays. For n * m any combination with n + m less than or equal to 8. Up to 2 video walls can be defined from the available 8 outputs. Each of the 8 input signals can be routed to a video wall or – if not all 8 outputs are used for video walls – to one of the remaining outputs. Up to 2 Video Walls can be defined from the available 8 outputs.
Depending on the type of screen used, the Bezel Correction can be defined in the configuration software. Audio signals can be fed in or out separately for each input and output. This allows both external audio signals to be embedded in the HDMI data stream and embedded audio data to be played back on external audio devices. For demo and presentation purposes, any input can be sent to any output in any order, time-controlled with adjustable timeout. The system is configured and administered via an IP network using software or via a WebGUI, in which all settings can be defined in detail. Once set, routings can be saved as presets – up to 8 of them. The most important settings can also be made using the front keys directly on the device for quick access.
This post is also available in: Italian