87
ISE 2019 is the launching pad for the new integrated real-time live mixer that completes the multimedia modules of Modulo Pi.
The new feature of Modulo Pi at ISE 2019 is a new version of its media server solutions Modulo Player and Modulo Kinetic now incorporate a live realtime low-latency mixer, presented at the Modulo Pi stand (14-K135).
Designed to create effective visual experiences within a variety of applications, Modulo Player is a user-friendly media server ideal for everyday projects. It offers an intuitive interface and simple-to-use workflow for fast and easy set-up and operation. Thanks to features such as XMAP for advanced 2D warping, its playlist management, and powerful embedded show control capabilities, Modulo Player is a versatile solution that will fit the needs of a variety of projects.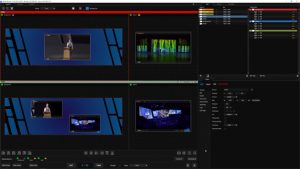 Modulo Kinetic, instead, is designed for the most advanced shows with video playback, real-time 3D, interactivity and tracking. This high-end media server offers a state-of-the-art 3D engine for show design and visualization, powerful non-linear real-time timelines, flexible nodal programming, as well as advanced show control and tracking capabilities. Modulo Kinetic can be used across the complete workflow, including study, simulation, encoding, playback and show control.
Modulo Pi takes its "all-in-one" approach to the next level by adding a real-time low-latency live mixer to its systems. Available through a dedicated application (PC, Mac), the mixer's gives access to varied functionalities: Program and Preview screens, presets creation and management, layer properties and transition effects including borders, keying, mask, fade.
GPU-based, Modulo Pi's systems also integrate input boards, including low-latency FLEX modules by Deltacast.
The new integrated live mixer for Modulo Player and Modulo Kinetic units is already available: just visit the Modulo Pi stand at ISE 2019!