111
For the opening and closing ceremonies of the Gold Coast 2018 Commonwealth Games, The Electric Canvas, an award-winning Australian company specialized in large-scale projections, managed the AV projection relying on Modulo Pi's high-end media server: Modulo Kinetic.
The 21st Commonwealth Games took place in April 2018 at the Carrara stadium in Queensland, Australia, with spectacular opening and closing ceremonies realized by 4.000 performers. Combining theatre, dance, and music, the shows were created to reflect the Gold Coast culture, embodying its spirit and its energy. After winning the tender, The Electric Canvas prepared the event over six months. To achieve such a large-scale video projection in the stadium, they chose 20 Christie Boxer projectors, as well as Modulo Kinetic, a media server with advanced features from Modulo Pi.
Working closely with the content producer, The Electric Canvas designed the projection overlay which determined how to cover the field of play. The main video projection was a visualization of Earth and its history, projected on the stadium playfield. This came with several challenges, like to put the 20 video-projectors at a height of 67 meters above the ground in the sports lighting towers. To handle all necessary changes, the flexibility in the video-projection programming brought by Modulo Kinetic was a must for both ceremonies of this major event. In a time-critical context, The Electric Canvas' operators made the Modulo Kinetic's capability to preview the show in 3D. The show, in fact, also included 3D mapping on Migaloo, a 30 meters long inflatable white whale, handled by 12 puppeteers. The whale floated into the arena, with content projected onto it after it reached its final position.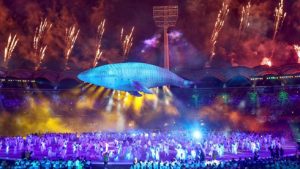 The show video was synchronized to timecode, which was delivered with the music, but sometimes had to run independently from the timecode, as Peter Milne, director of The Electric Canvas, explains: "In the case of having to hold entries and exits by the cast, or other unplanned factors, you need programming strategies, creating loops in the content so you don't have any unexpected result in the picture when the timecode stops, or when something unexpected happens in the show. There are a lot of media servers who don't cope with this very well. Having a strategy whereby you can, at some point in the music, ignore the timecode, allowing the music to stop and to loop, waiting for something else to happen when there's a mechanical breakdown on the field, or when somebody falls over, is crucial. These contingent loops are a major and important part of these live shows, so having a system like Modulo Kinetic that deals with those contingencies, in a very fluid and flexible way, is essential."
One other important feature of Modulo Kinetic is the automatic reversion to back-up systems, should we have a computer problem or failure. In the end, the projection was impressive and looked very good in both ceremonies.
The Modulo Pi media servers are very specifically built for technicians and for the creatives that do the type of work that we do. Because the Modulo Pi team listens to technicians and creatives that work on projects, they modify and improve their software specifically on that feedback.
www.modulo-pi.com
This post is also available in: Italian
You might also like
---
More from References
---
10
Important news from the German d&b audiotechnik brand, which enriches its loudspeaker systems family with the new 44S: high performance …