130
Remarkable news in different market sectors for the Absen brand, which presented in Amsterdam the next generation of its MiniLEDs as well as the new Venus and AW series.
Absen's presence at ISE 2020 did not go unnoticed, first of all for the large stand divided into two distinct areas (respectively dedicated to installation and rental solutions) and then for the amount of new products presented , which testify to a lively brand and well positioned on the market (distributed in Italy by Prase Media Technologies).
Alex Couzins, Head of Brand and Marketing Europe for Absen, wanted to place particular emphasis on the "evolution of our displays for fixed installations, rental and staging, which is also an evolution of technology, not only of the products. For example, MiniLED enters a new generation, with a further reduced pixel pitch. It's a perfect product for Educational applications, especially in universities, but in some cases also for the residential market, in the presence of large investments."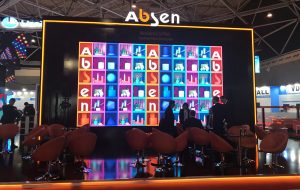 Absen's MiniLEDs are ultra-thin pixel pitch LED panels that incorporate the 4-in-1 pixel configuration (IMD) and cathode technology. "They are 2,5 times more powerful than standard SMDLEDs" – says Alex Couzins – "and offer 20% more energy efficiency." MiniLED is particularly requested by the corporate/retail market in applications such as corporate lobbies, event spaces, showrooms and retail stores. The novelty is that Absen MiniLED technology is now standard on four main product lines: the Aries (AX), Acclaim (A27 Pro) and Control Room (CR) series, as well as the new HC series for mission-critical environments.
"The Acclaim series" – points out Couzins – "is Absen's flagship display for fixed indoor installations. This year, at ISE, we present this series as a MiniLED range, or the A27 Pro series, even more performing and efficient. As far as the rental products are concerned, however, we focus on AX1.5, 1,5 mm MiniLED now also available in the 1,2 and 1,9 mm varieties, with more flexibility options to meet the needs of rental customers global." Finally, the CR series will now be available in 0,7 mm pixel pitch, which represents the company's smallest pixel pitch and highest resolution display. As well as this improvement, Absen also presented the HC series, a new 0,9mm MiniLED display for the high-end control room market.
ISE 2020 also saw Absen launch the new AW series for the Digital Out-Of-Home (DooH) market: a new 5.000 nit outdoor fine pitch LED for light box displays, bus shelters and other types of urban street furniture. The integration of 5G technology will also bring interesting application developments for this series.
Finally, here is the new Venus (VN) series: LED displays for touring applications (concerts and festivals), designed to create large screens. The product features an integrated "module-on-frame" design: by removing the sub-frame, Venus, with its 27,5 Kg/sqm, is lighter than other solutions on the market. The VN Series will be available in two standard sizes: 1.500×1.000mm and 500×1.000mm, in order to allow for fully customised options. It will be available in 3,9mm, 4,8mm and 8,3mm pixel pitch versions, boasting up to 5000 nits brightness. The VN Series also allows for concave and convex curving options for highly creative video wall designs.
But, after all these innovations, how is Absen doing in particular on the Italian market? Alex Couzins has no doubts: "We grow year by year, thanks above all to the distribution channel with Prase Media Technologies, with which we do a really good job. We are satisfied, but the large amount of new things that we presented at ISE this year leads us to say that there is still a lot to do and a lot to grow! In Italy as elsewhere, throughout Europe."
This post is also available in: Italian