108
Art installation designed by Karen O and Danger Mouse, "An encounter with Lux Prima" has benefited from Meyer Sound technology to create a truly immersive environment for visitors.
For four days in late April, more than 3.500 visitors experienced a 35-minute art installation called "An Encounter with Lux Prima." Conceived by Karen O and Danger Mouse as an immersive introduction to their new album collaboration, the audacious event — sixteen sessions in all — was held at the Marciano Art Foundation in Los Angeles. Audiences were fully enveloped by a custom-built spatial sound system from Meyer Sound, experiencing both music and effects with infrasonic waves emanating from three VLFC very low frequency control elements.


The formative concept behind "An Encounter with Lux Prima" was put forth by the artists as a means to involve the audience in the sensory and emotional content of the music in an environment that transcended the limitations of a stage performance. To carry their concept to fruition they enlisted a core team of collaborators that included, among others, the sound designer Ren Klyce. To expand the stereo album music into a fully immersive experience, Ren Klyce was given the multitrack master files from which he created a 7.1 mix, augmented by additional object-oriented spatial sound elements. Meyer Sound loudspeakers were employed during the creative process from the outset, first at Klyce's own post-production facility, and again for the final pre-mixes.
"Meyer Sound loudspeakers are very musical, which is what I personally like about them", remarks Klyce. "In addition to their natural musical quality, they can get very loud but still feel pleasant. They are also emotional in the low frequencies with the VLFCs."
In parallel with Klyce's sound design, the visual arts side of the team had sketched out a design centered on a massive, irregular stone monolith sitting atop a triangular base. The audience would be seated around it on sections of real lawn, with dynamic lighting and mapped projections illuminating both the monolith and surrounding walls.
Twelve UPQ-1P loudspeakers supplied the full-range LCR program, with an additional UPQ-1P overhead. Also packed inside were six 900-LFC low frequency control elements for deep bass plus the elemental infrasonic force of three VLFC very low frequency control elements. The four surround channels each employed two UPQ-2P loudspeakers. The music was then synced to the video and lighting effects, with the spatial sound movements and visual show control all directed by a D-Mitri digital audio platform.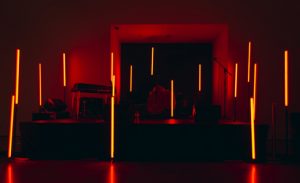 The final step was to set up all the audio and video technology at the Marciano Art Foundation, make some minor audio tweaks to adjust for differences in acoustics and room size, and finalize the show control by linking the entire "encounter" to three buttons on an iPad: Preshow, Show Go and Emergency Stop. The latter was never needed.
"The reaction was resoundingly positive every time", says the producer Mungo Maclagan. "The audiences were totally engaged throughout the entire 35 minutes. David Lynch also came for a show and expressed great appreciation!"
In addition to the main system, a small pre-show system was deployed in the lobby area with four UPJ-1P loudspeakers. Prior to opening, an invitation-only live performance by Karen O and Danger Mouse for 400 celebrity guests was reinforced by eight MINA line array loudspeakers plus four 750-LFC low frequency control elements.
meyersound.com
This post is also available in: Italian