192
The haute cuisine satisfies all the senses: it's the idea of Tanya Holland, owner and executive chef of Brown Sugar Kitchen, who has decided to complete the offer of the venue with sound quality.
The new Brown Sugar Kitchen, in Oakland, California, was equipped with a Meyer Sound Constellation system for the 85-seat dining room. The system includes sixteen Ashby-5C full-range ceiling loudspeakers augmented for ample bass by 10 MM-10XP miniature subwoofers. All loudspeakers employ MeyerSound's IntelligentDC technology, which combines the sonic benefits of self-powered loudspeakers with the installation ease of distributed constant voltage systems. Fifteen miniature cardioid microphones are discreetly mounted around the ceiling for ambient sensing, and a D-Mitri digital audio platform provides inputs and outputs as well as flexible acoustical emulations using the patented D-VRAS algorithm. System levels and presets are controllable via an iPad remote.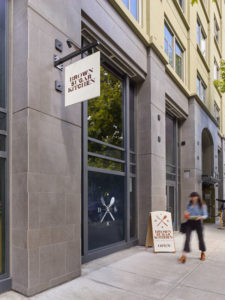 A challenging task at Brown Sugar Kitchen was represented by the glass-windowed front and hard flooring of the restaurant. Consequently, the ceiling was made highly absorbent, and remaining walls were treated to minimize sound reflections. In that respect, several Meyer Sound Libra custom acoustic panels served a dual role, both absorbing sounds and greatly contributing to the visual ambience of the space.
The result is an airy and convivial acoustic signature, but in a controlled way that never allows the room to become over-excited and cacophonous. Constellation also creates "sonic micro-climates" that allow easy conversation around the table while blurring voices from further away. Background or foreground music can be introduced and balanced to suit the mood and time of day.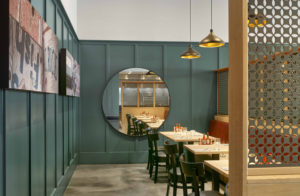 "The soundtrack has always been important to Brown Sugar Kitchen", says Tanya Holland, nationally renowned as a leading exponent of contemporary soul food cuisine, earning multiple Michelin Bib Gourmand awards. "It's crucial that music we play — a mixture of soul, R&B, American pop and some classical — is integrated into the customer experience in a way that is always enjoyable and never competing in volume with noise from the kitchen or other people's conversations. We've done that with Constellation, and the results are really amazing."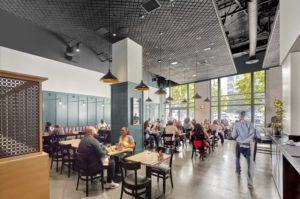 The complete audio system for Brown Sugar Kitchen was installed by BugID Audio Video Design and Integration of San Francisco under the supervision of Matt Lavine. Other key components on the input side include an Apple Mac Mini (for the Spotify music service), a Sound Devices USBPre2 preamplifier, and a StarTech 17-inch video monitor. The Extron-equipped DJ panel includes a Rolls MB15b Promatch for converting unbalanced stereo inputs to balanced audio outputs.
This post is also available in: Italian