95
The classic Euromet "Radente/floor stand" trolley becomes "Maxi", to support large videowall and ledwall structures, with several innovations also as regards mounting brackets and adjustment mechanisms.
Euromet news for the video/ledwall world: Maxi Floor Stand is the new version, designed for higher loads, of the "classic" floor stand trolley. Stable, ultra-flat and characterized by a renewed and particularly refined design, the new Maxi Floor Stand is equipped with larger wheels, is positioned 11 cm from the ground and can support LED walls or video walls up to a 3×3 configuration of various sizes. Furthermore, the videowalls can be hooked directly above the roller surface or raised by about one and a half meters without affecting their stability and safety. The new reliable and ergonomic rollers make moving the structure very simple and effortless. The brakes can be operated comfortably with the foot and give the possibility to transform the trolley from mobile to fixed in a few seconds.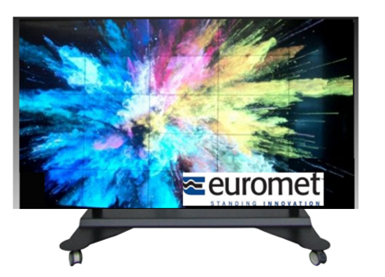 As usual for Euromet, the new Maxi Floor Stand is available, on request, also in the version without wheels and has an optional safety hooking system to the wall, safe, discreet and easy to remove for quick inspections. The structure is completely in steel, while the powder coating and color are customizable.
In short, it's a product that combines solidity and flexibility, which can be used for LED walls or video walls of any brand.
After all, the Infinigrid support system, consisting of a frame structure that gives maximum stability to the entire structure, offers the advantage of a great ease of adjustment in the positioning of the various monitors: in practice, in addition to providing stability, it does not renounce to some mobility. The assembly of the structure is simple and can be done directly on site, at the time of installation.
Finally, thanks to the new brackets with independent micro-adjustments entirely designed and produced by Euromet, the monitors can be aligned on three axes and moved in all directions. These new brackets are free to slide along the aluminum bars and, through independent micro-adjustments, can be positioned with extreme precision. In this way it's possible to obtain a perfect calibration for the positioning of all monitors, eliminating gaps between the screens and ensuring better stability.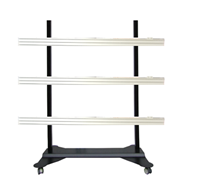 Each cart supports monitors of various sizes: 46", 49", 52" and 55". In terms of video or ledwall configuration, 2×2, 2×3 and 3×3 versions are available.
This post is also available in: Italian