71
The number of prizes obtained by MAXHUB's Raptor series displays in many events around the world rises. The 220" Raptor All-in-One LED display was in fact awarded as "Best In Show" for the AV Technology and Digital Signage categories at Infocomm 2021.
The only product to win two awards at Infocomm 2021 was Maxhub's colossal 220" Raptor LED display: the series of displays that is becoming known everywhere! We are talking about a range of immersive displays of different sizes, from 120" up to the huge 220" model. Equipped with collaboration tools to stimulate engagement and raise productivity in business or learning environments, the Raptor series was created to radically simplify the experience and installation of LED wall structures.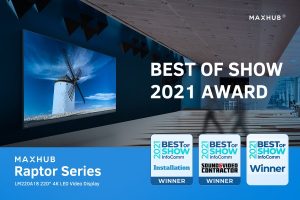 The installation of these models, in fact, takes a few hours, not days as in the case of other brands, and users have a complete but very intuitive interface that allows participants and speakers to interact in an even easier and natural way. Complemented by built-in studio quality speakers, designed to deliver a clear audio for voice, music and video content, the Raptor series is the perfect All-in-One solution for meeting rooms, auditoriums, corporate spaces dedicated to meeting or, more simply, for a strong impact on visitors at the reception.
The triumphant tour that the Maxhub Raptor series is completing between trade fairs and events dedicated to professional video is not yet over: according to the latest news, in fact, Maxhub has confirmed that the Raptor series, including the spectacular 220" model, will be at the next ISE in Barcelona, scheduled from 1st to 4th February 2022. A very important opportunity to admire this "top of the range" series which is giving so much satisfaction to its manufacturers! The Maxhub LED displays are distributed in Italy by Intermark Sistemi.
This post is also available in: Italian