180
The Matrox QuadHead2Go multi-monitor controllers lead the newly installed creative videowall in the EIZO headquarters: twelve monitors that enliven the company's reception area.
EIZO, a well-known manufacturer of high-end specialized display solutions for over 50 years, catering to medical, security, corporate, professional photographers, and more, wanted to find an appealing visual platform for their new corporate UK office that would also reflect their own visual philosophy. They were looking for a video wall-type solution that would provide both employees and guests with a welcoming, engaging atmosphere.
After several discussions on the type of multi-monitor video wall solution that would be most suitable for them, EIZO decided to install a large artistic video wall. With their technology manager Dave Hadden's expertise, EIZO homed-in on the Matrox QuadHead2Go multi-display controllers almost immediately as it was made available in the market. "The timing was perfect!" says Hadden. "We almost settled for a uniformly laid out video wall, until we heard of the Quadhead2Go."
For maximum impact, EIZO elected to install an artistic video wall in a spaced-out, non-rectangular, creative 6×2 arrangement. The QuadHead2Go controller, with a single Matrox C680 six-output graphics card and three Matrox QuadHead2Go cards, allows you to manage the system very easily. Each QuadHead2Go card connects to one of the three 3K x 3K outputs from the C680 graphics card for its input video source, and drives four displays apiece. A total of 12 EIZO ColorEdge CG2420 and ColorEdge CG319X monitors, arranged in both portrait and landscape in a random, provide a natural, welcoming setting. In spite of dealing with different types of monitors, with diverse resolutions and aspect ratios, EIZO was able to set up the video wall in an effortless, trouble-free installation.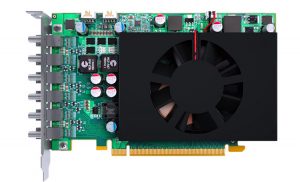 The new video wall in the reception provides the wow factor that EIZO aspired to elicit. Customers and visitors entering the lobby are instantly attracted and impressed with the distinctly-designed video wall arrangement. Dave Hadden says: "The end goal for EIZO was to have a striking digital signage and we achieved it easily, quickly, and within budget. Our decision to use Matrox QuadHead2Go multi-monitor controllers and Matrox multi-display video wall technology was the right one."
Well, customer satisfaction is the best proof of a product's effectiveness!
This post is also available in: Italian