91
The Eden Project in Cornwall has been wowing families during their summer holidays by hosting a mission to Mars, mini-golf on Mercury and a daring slide down the surface of a moon.
Running for six weeks, Expedition Space is an all-new programme of intergalactic activities that has been taking place across Eden, giving visitors an "extra-terrestrial holiday" including planet-hopping, meeting alien friends and enjoying out-of-this-world fun such as moon buggy driving and virtual reality experiences.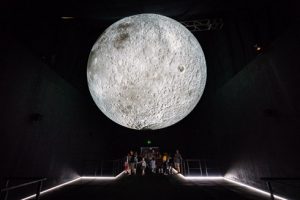 Enhancing the sonic realism of this trip around the Solar System has been a series of Martin Audio's hugely popular CDD-WR (Coaxial Differential Dispersion) weatherproof loudspeakers, including 15 pairs of CDD6-WR and a pair of CDD5-WR — all driven by just a pair of Martin Audio's multi-channel iKON iK81 8-channel Class D amplifiers.


Said Eden Project Facilities Technician Jonathan Stamp, who was also technical designer on the Expedition Space project: "The CDD Series was selected as it covered everything we needed from the system. The key point was to have a high quality, compact, full-range box that produced even dispersion to our audience —
and the CDD Series does that extremely well."


The spaces include: Departure Lounge (4 x CDD6-WR); Spaceship Take-off Pod (4 x CDD6-WR); Moon Deck (8 x CDD6-WR); Universe Tour (6 x CDD6-WR); Spaceship Landing (4 x CDD6-WR); Mars Tunnel (2 x CDD5-WR) and Mars Viewing Pod (4 x CDD6-WR). Each zone has its own sound track, triggered in real time by actors through BrightSign players and QLab software. These are used to reproduce sound effects (such as space ship engines, warp speed), voice-overs (live actors and pre-recorded messages) and audio tracks to contribute to an immersive theatre piece.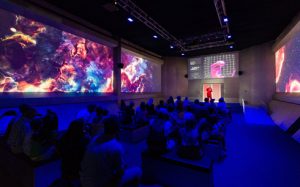 Jonathan Stamp says that the immersive experience has been greatly enhanced by the sound effects, and adds that once Expedition Space terminates at the beginning of September, the CDD-WR's will be redeployed on future Eden Project productions.
www.martin-audio.com
This post is also available in: Italian
More from References
---
11
LG Electronics takes another step towards redefining the standard for commercial display technology by launching LG MAGNIT, a new Micro …