149
"URA: A Celebration of Water", an innovative multimedia experience designed by Cadabra, creative division of XYZ Cultural Technology, on the coast of Quebec (Canada), uses LS-Node to manage a complex and fascinating lighting system
There is LS-Node RDM/DMX by Work Pro at the center of the fascinating installation "URA: A Celebration of Water", whose design is due to Cadabra, the creative division of the audiovisual integration company XYZ Cultural Technology. URA is open throughout the summer and operates in both daylight and evening hours in Chandler, a place where the sea is both symbolically and economically important.
Visitors are transported into a timeless maritime universe where they experience storms, shipwrecks, equinox high tides and even life at the bottom of the ocean with a chance to meet a host of sea creatures including a black whale. Guided by the voice of Lamia, a fantastical being descended from Basque legend, visitors spend an hour walking through eight storytelling stations where they are entertained and educated by a combination of vivid scenery and cutting edge technology.

Cadabra and XYZ worked closely with Canadian distributor AVL Media Group to identify the right audio, video and lighting technology for this project. For seamless management of the installation's lighting, AVL recommended Work Pro LS-Node2 DMX streamers, one of which was positioned at each of the eight stations. LS-Node is an RDM/DMX streaming device that supports industry standards ArtNet and sACN and comes in three different models – LS-Node1, LS-Node2 and LS-Node4 – with each number representing the amount of freely configurable DMX universes that model can handle. They all feature several modes of use including Standard Node, with ArtNet/sACN inputs and DMX outputs, and Merger, where the LS-Node can receive different universes via ArtNet/sACN and merge them in the same DMX output.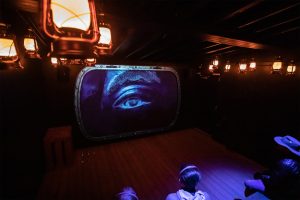 Garou Blancan, Cadabra's lighting designer for URA, said: "LS-Node2 units were chosen for their ease of use, their support of PoE power and their small, rugged build. Also the price/quality ratio was also interesting and I have rarely seen a user interface that is so simple to program."
Maxime Perreault of AVL Media Group said he was very satisfied with the final result: "The project" – he said – "was a great success and attracted many visitors over the summer. URA is now closed for the winter and will reopen in Spring 2020."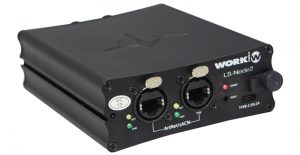 Many challenges have been faced and overcome by the teams of Cadabra and AVL Media Group, not least the fact that the experience is located outdoors on a beach so everything – even the equipment inside the stations – had to be hard wearing and weatherproofed.
"Having a safe control system in all eight stations decisively contributed to the realization of the project" – concluded Garou Blancan.
This post is also available in: Italian