165
From the many brands of the "Adam Hall galaxy" interesting news come that, after the lockdown, will contribute significantly to the necessary restart
It's known that the Adam Hall group is vast and varied, with many brands covering all the needs of the A/V world and live events. Let's take a quick look at a rich gallery of news ranging from professional lighting to media for musicians.
Cameo
Brand known for the union of design and efficiency, Cameo offers the new, elegant and refined H2 T Houselight lamp, LED light for restaurants, theaters and reception places, available in various colors. The interchangeable lenses allow you to adjust the projection angle from 20° to 45°, while the different mounting options (on crosspieces, on the wall or even on the ceiling) give flexibility to this interior light, which is also controllable via DMX or wirelessly via W-DMX.

Also very interesting are the new proposals of static lights FLAT PRO G2 Series, of different sizes and in a new version that makes them valid for both indoor and outdoor applications, and the Fresnel projectors F Series, for theatrical, photographic or cinematographic applications. Available in different Tungsten, Daylight or Tunable White versions with RGBW color mix, these lights offer silent and flicker-free operation and reduce the consumption of traditional Fresnel projectors.
Valid both for interiors and exteriors and capable of creating interesting lighting effects are the new DROP Series ground lighting fixtures, which can work both wired and with battery. Equipped with DMX control on board, these lighting fixtures are also marketed in special transport houses (Touring Set).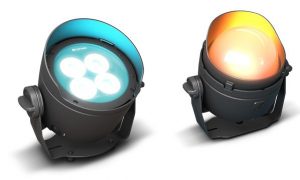 Finally, OPUS X PROFILE is the new Cameo proposal in the field of moving heads. Equipped with a particularly light motor, this product reaches 33.000 lumen with a lighting power of 72.000 lux at five meters. The high-quality optics with 170 mm front lens and a remarkably wide zoom range from 6° to 48° offers wide possibilities for design with light.
Palmer
And here we are in the Palmer world, with the interesting new Power BAR PWTPB40, universal power supply that can be integrated into the pedal, with eight outputs with negative center pole and two outputs that can be switched to 9, 12 or 18 Volt, for a total current of 2.000 mA. An obvious simplification for musicians who perform on the stage, which can thus significantly reduce and better order the wiring.

The new Mark II version of Grand Audition is also very interesting, easily controlled via iPad. It's a switching system for 24-channel audio speakers, which allows you to switch between ten pairs of speakers and four subwoofers.
The units can also be connected in cascade to allow management of up to 40 pairs of speakers and 16 subwoofers. Active and passive speakers can be mixed on one unit. Each output level can be adjusted by ± 12 dB.
Gravity
Also as regards the supports and equipment for musicians, several new products come from the Gravity brand which demonstrate particular attention to the historical period, with new accessories that can also be used for the need for disinfection and sanitization of instruments and objects.
From the interesting KSX 2 RD, detachable shelf for keyboards, to the new SP 3102 (Studio Monitor Speaker Stand), to land on the TLS 431 B floor lamp, with a square base, particularly solid, and the multifunction trolley CART M 01 B, to close with LS SUPER TB 01, extendable mini T-bar. Finally, the new Universal Desinfection Stand deserves mention, mirror of these pandemic times.
Defender
German brand that deals with professional cabling protections, Defender is also part of the Adam Hall galaxy and offers interesting news, starting with the Midi 5 2D Module System, modular protection for MIDI cables that includes a MIDI compatible central section and a flat ramp, which can be expanded and combined as needed, both in terms of length and width.


The cable protectors of the MICRO 2-CHN series, on the other hand, are more agile and compact, ideal for indoor and outdoor use (fairs, events, shopping centers, stages or studios). Equipped with two 35 x 30 mm compartments for high power cables and water pipes, with a maximum load capacity of two tons per area of 20 x 20 cm, the MICRO models are able to withstand vehicles, trolleys and pedestrians, and have a high level of tread and slip resistance, thanks to the 3D LaserGrip surface.
This post is also available in: Italian