79
The Link OnAir series of sanitizing products, dedicated to the entertainment world, is enriched with the portable models of the ROLL line, available in flight-cases, rack units and special transportable boxes.
The pandemic has launched a powerful challenge to the entertainment world, creating unprecedented sanitation needs for environments such as theaters, arenas, auditoriums, etc. Designed for maximum portability and large spaces, Link OnAir products from the ROLL line are based on NASA's ActivePure technology and use an innovative sensor system to ensure constant monitoring of air quality.

The new models are available primarily in portable box units, equipped with brushless fans specially designed to ensure effective and fast diffusion of sanitized air. Usable for live events and concerts, a single unit guarantees a nominal air flow from 1300 m³/h to 17000 m³/h, and is effective against viruses, bacteria, molds, spores, odors and pollutants.
The rack units, on the other hand, available in one or two unit versions, with or without Littlite bulb, are easily mounted inside the technological cabinets and are particularly suitable for control rooms, recording studios and rehearsal rooms, with air flow nominal of 425 m³/h.

Both types of products are based on ActivePure sanitation technology, the result of NASA research, and have the LOA system for controlling IAQ parameters as well as system monitoring and management software.
Finally, the new unit that can be installed on vehicles for sanitizing equipment during transport is also interesting. With a nominal air flow rate of 17000 m³/h, this model is ideal for installation on trucks and vans, and shares the technical characteristics of the models illustrated above.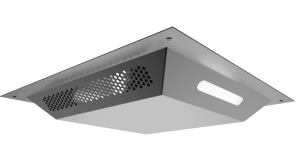 Link's commitment to ensure that the world of entertainment and live events can restart in complete safety is, in short, indisputable!
This post is also available in: Italian