262
Two new extender models (transmitter and receiver) were presented, which expand the already known Lightware TPS range by adding the USB KVM functionality
The idea is to extend the signals with ease and immediacy in an even wider range of applications. The latest Lightware proposal is the UMX-TPS-TX140K and HDMI-TPS-RX220A models, TPS extenders that allow you to easily extend even 4K@60Hz signals over distances up to 170 meters using a single CAT cable.
The natural habitats of this pair of products are therefore the conference rooms, teaching rooms, control rooms and Home Cinema applications.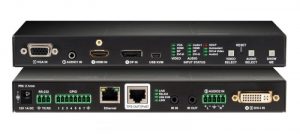 UMX-TPS-TX140K is a UMPS transmitter (HDBaseT) capable of extending 4K video, audio and control signals over a single CAT cable, which offers USB KVM connectivity. Designed for both digital and analog audio and video signals, UMX-TPS-TX140K has VGA, YPrPb, HDMI 1.4 and DP 1.1 connections with analog stereo audio from local inputs or built-in HBR 7.1 audio. The unit is also able to manage HDCP encryption.
HDMI-TPS-RX220A is instead an HDBaseT compatible TPS receiver with USB KVM connectivity, which offers a TPS PoE input, an HDMI input, two HDMI outputs and the audio de-embedding function. HDMI-TPS-RX220A also offers compatibility with Cisco VC, control functionality for third-party products and integrated Event Manager, and is capable of extending DVI or HDMI 1.4 signals + Audio + Ethernet + RS-232 + IR on a CAT5/6/7 cable. The two products can handle the definitions 1920×1080@120Hz/4: 4: 4, 4096×2048@30Hz/4: 4: 4 or 60Hz/4: 2: 0.

The new editions are now enhanced with USB KVM compatibility, allowing users to utilise controls via Keyboard & Mouse in a point-to-point extension between these devices.
This post is also available in: Italian