116
A fascinating cascade of color and images: this is "LG OLED Falls", an installation that surprised visitors to the last CES in Las Vegas.
The OLED Canyon presented last year had already achieved considerable success. LG Electronics this year, again at CES in Las Vegas, has re-proposed an even more impactful installation. "LG OLED Falls" is an "ultra-immersive" project, which uses the technology and flexibility of LG's business display to create real "OLED falls" at the entrance to the company's exhibition area at CES 2019. For the installation, 260 LG OLED "Open Frame" monitors were used, arranged in concave, convex and flat configurations, to simulate the movement of the water thanks to various degrees of curvature. The "Open Frame" displays offer thin screens with adjustable curvature, which allow to compose various forms and suggestions, creating particularly immersive multimedia experiences that transform the space into a container to be animated with creativity and imagination.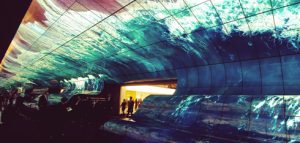 OLED technology does not require backlighting, and this allows a simple and thin panel structure, touching new levels in terms of lightness and customization possibilities. Each pixel turns on and off individually, greatly increasing the contrast possibilities, from deep blacks to brilliant whites, passing through a wide range of colors reproduced in a very natural way. The images, in short, are particularly vivid, and as the LG OLED "Open Frame" displays are able to flex and adapt to spaces that were previously impossible to animate, allowing to realize digital signage installations that are transformed into real works of contemporary art.
"LG OLED Falls" was placed at the entrance of LG's booth at CES 2019, where visitors found themselves in front of a sand sea in a sunny desert, the fury of the falls, the rippling ocean of waves, and they were able to immerse themselves in the rainforest, in a field of flowers moved by the wind and in a fascinating setting at sunset, as well as in an expanse of flying lanterns or in the deep space of a nebula.
This post is also available in: Italian