151
The climate control of the apartments and common areas of the Hapimag Resport Cavallino, in Treporti, near Venice, is signed by LG: futuristic structure inaugurated in 2018 with attention on issues such as energy consumption control and plant flexibility.
The Hapimag Resort Cavallino, located in Treporti, near Venice, was inaugurated in July 2018 and consists of 16 independent buildings, five of which are characterized by three floors above ground and the remaining ones built on a single floor, a choice determined by the desire to resume the typical environmental configuration of the dune area. In the buildings there are 125 rooms of varying sizes for guests and staff, a restaurant, some recreational areas and indoor and outdoor common areas for guests.
Hapimag is a shareholders' association that provides its members (around 130.000 worldwide) with over 5.400 holiday apartments in around 60 resorts in the most beautiful locations in Europe, the United States, Turkey and Morocco.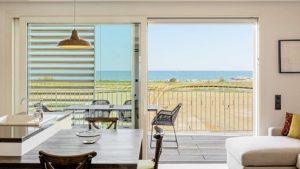 LG solutions have been called upon to meet customer needs in terms of high energy efficiency, system flexibility, maintenance and remote control. The installed air conditioning system has a nominal cooling capacity of 1.480 kW, a nominal heating capacity of 1.630 kW and a nominal hot water capacity of 610 kW. The system includes in particular 44 MULTI V WATER IV units (from 8 to 14 HP), 34 Hydro Kit at low temperature for heating and cooling with radiant floor panels and 28 Hydro Kit at high temperature for domestic hot water.
MULTI V WATER is a VRF unit with water condensation, designed for installation in medium-large buildings with reduced outdoor spaces. It allows savings of up to 30% compared to air conditioning systems based on air-refrigerant heat exchange and offers high efficiency in all operating conditions. Its performance is not affected by changes in external temperature and humidity. The installation is completed by the Hydro Kit units which, combined with a MULTI V VRF system, supply domestic hot water without the need to install a dedicated boiler.


With heat recovery systems, heating and cooling are possible simultaneously during the summer. In fact, the system produces domestic hot water for the bathrooms, recovering the heat from the indoor units operating in cooling mode.
www.lgbusiness.it
This post is also available in: Italian