122
Visitors to MDW 2019 had the opportunity to marvel at LG's new transparent displays installed in the sophisticated shop windows of the Trussardi Casa store, in Milan's Piazza della Scala.
Astonish, invite, communicate: the first Italian installation of the new LG Transparent OLED displays in this fashion setting didn't disappoint. The finest digital signage technology from LG Business Solutions, together with the creativity that has always characterized Milan Design Week and Trussardi's Made-in-Italy design, have found a surprising and futuristic visual experience in this new partnership between technology and the world of fashion.
"Our Transparent OLED technology generates unique effects – explains Nicola Micali, Business Solutions Product & Marketing Manager for LG, commenting on the results of the Milan project – with a refined and sophisticated design that can discreetly but eclectically enhance the experience of customers in the luxury sector, exalting the stylistic and aesthetic characteristics of each brand. It is a digital signage solution particularly suitable for Trussardi Casa, a historic Italian brand that has found a new expressive vein in its relationship with its customers thanks to these amazing products".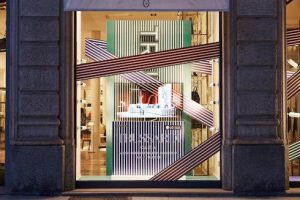 To bring to life this project in Milan from the 9th to 14th of April, the video content designed to introduce Italian consumers to the enormous potential of Transparent OLED technology was developed for the occasion by the multidisciplinary team of Oltrefrontiera Progetti, an international firm that deals with window displays, ideas and projects for the Luxury & Fashion sector.
Digital signage and Transparent OLEDs: showcasing luxury
So what did the thousands of visitors who passed through Piazza della Scala see? The real star of the Trussardi Casa storefront is the new transparent OLED display by LG. Designed for installation in various commercial environments such as retail stores, showrooms, exhibition venues and art galleries, the Transparent OLED display allows videos and images to scroll smoothly over panels that are almost completely transparent, providing sharp, colourful visual effects.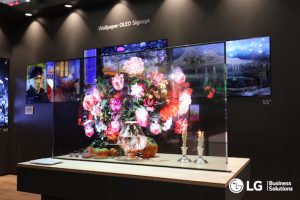 This doesn't mean "sacrificing" the traditional marketing needs of a shop window: customers can also clearly view the product itself, located behind the transparent display. The "Open Frame"design of the solutions from LG offers designers the possibility to transform any retail space into an eye-catching digital environment, with tailor-made proposals perfectly adapted to the needs of the most distinctive brands.
Are you ready to start exploring the effectiveness of transparent technology and its extraordinary visual effects? Transparent OLED displays will soon be available for the Italian digital signage market.
www.lgbusiness.it



This post is also available in: Italian