43
There is a hint of revolution for Digital Signage: LG presented Film Transparent LAT14, a transparent film applicable on any glass surface and able to offer perfect visibility.
Let's start with the essential features: LG's LED Film Transparent (LAT14) offers a pixel pitch of 14mm, brightness of 2100nit and great versatility of use, to offer impactful communication in the retail sector. It's, in fact, a transparent film in self-adhesive material, which can be applied to any glass surface and which, thanks to its 53% transparency, guarantees full visibility through the surfaces even after its application, a feature that makes it particularly suitable for shop windows, exhibition areas or showrooms. Furthermore, thanks in particular to its very minimalist design, LED Film Transparent integrates seamlessly with any type of environment.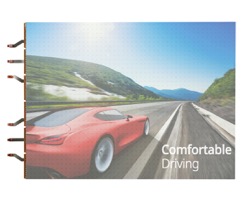 LG's LED film, in fact, is able to bend up to a radius of curvature of 2.000R, which allows applications on concave and convex surfaces and on curved glass or windows. The size and arrangement of the film can be customized to suit the installation area, and it's also possible to join multiple films vertically or horizontally, as well as cut the film, to realize all the application possibilities.
The bright LEDs integrated into the film allow the reproduction of a wide range of colors and shapes (not only logos, but also more complex images or videos), thus representing an innovative possibility to effectively communicate content and information. When the LEDs are turned off, the film is practically imperceptible, it completely merges with the surface on which it is applied. Using the Control Manager solution, you can adjust and set the brightness according to the time of day and manage content in real time.
Finally, LED Film Transparent is equipped with LG's webOS smart signage platform which allows intuitive navigation and simplified control of numerous functions. Thanks to SCAP support and compatibility with HTML, CSS and JavaScript, time and cost savings are also achieved.
In short, LED Film Transparent meets the needs of the retail sector and large-scale distribution, which during 2020 have undergone a strong change and a significant push towards renewal. The digitalization of the stores has played a fundamental role in the shopping experience, offering new opportunities for communication and interaction with the customer. The result of constant research, LED Film Transparent aims to meet increasingly personal and emotional needs in the business environment.
This post is also available in: Italian